Nick Fracture, creative director of Fracture design studio.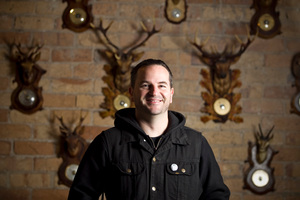 My happy place is my studio. It's like a big kid's clubhouse, the clubhouse you always wanted when you were a boy.
It's got a library of design books, a stereo, video game machines (we play a lot of Street Fighter 2). It's got a great coffee machine, it's got a bar - we've started making a lot of coffee martinis, which is our Fracture specialty. It's a great place to be for work and play.
We've been in this space for about five years. When we came here it was all partitioned ... so we just smashed down all the partitions and opened it right up into a massive space. It's like a New York loft.
Then we started bringing in cool things that we had at home - bits and pieces, our own artwork, books. There used to be an awesome antique shop around the corner called Drummonds and we bought a set of deer antlers there. We ended up with another set, and then it just got out of control. The studio used to be a Morris Minor factory. We've got this huge service elevator, now decommissioned. I think they would assemble the cars on the top floor, where we are, and then send them down in the elevator to the showroom on the bottom floor.
As far as I know it's also been an architecture office and an interior design studio. I'm pretty sure it was a massage parlour at one point because we had an old guy come up the stairs looking for a massage once. He seemed quite disappointed when we told him he wasn't going to get one.
It's the best place to work because you can really focus, or you can take a break away and do some fun stuff. It's quite flexible. It's a social space - seven of us work here - but it's great when you want to just get stuff done too.
I always love coming up here. It just makes me really happy.
It really reflects what we're about in terms of the design we do and our outlook on things. It's messy and it's rough and it's quite crazy and it's a mishmash of styles, but that's how we work - pretty loose.
I started Fracture straight out of design school, about nine years ago. I didn't really want to work for anyone else. I think I'm unemployable now. I'd be a nightmare. You get to a point that you're too far gone, and that happened to me a long time ago.
My real name is Nick Shaw. In the early days people would introduce me as "Nick from Fracture", and then that just became "Nick Fracture" and it stuck.
My business partner Jimmy McKee sometimes calls himself James Fracture. We're like the Ramones.
* Fracture, working with Ryan Marx of Marx Design, won a Gold award at last night's Best design awards, for their design of new packaging for Living Earth compost. The awards are organised by the Designers Institute of New Zealand.