Suzy Dunser tells Elisabeth Easther why she loves living in bush-clad Konini with husband Tom and daughters Erika (13) and Katie (11).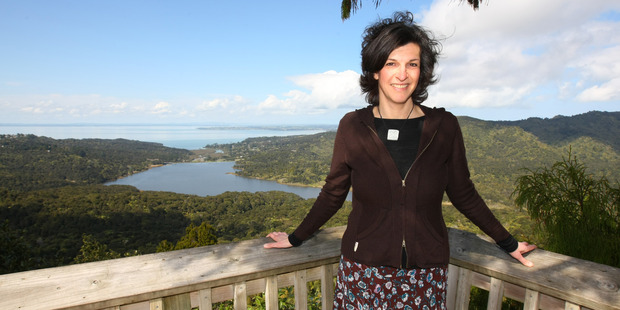 My husband and I moved to New Zealand in 1995, he's from Austria, and I'm originally from the USA. Tom wanted to be in a really suburban area, and I love the bush, so Konini is perfect for us. It's a little bit outside the centre, yet in the bush, you don't feel like you're close to things, but you are. We're on the north face that Scenic Drive runs along the top of, so it's sunny and sheltered, which we like. And we get a lot of wood pigeons and tui. There are lots of cul de sacs, so it's quiet and very peaceful, with a really nice feeling. Konini is quite a small area, so not many people identify as being from here but it's really good for kids. We've got bush up the back which is relatively contained, and the girls can go up there without being too far away. We go on lots of walks, as there are lots of little pathways that connect up the streets. The girls love it, as they can go for walks by themselves.
We love the Water Filter Station on Konini Rd, it has a big flat area where kids can practise rollerblading and biking or scootering. There are also lots of schools around with playgrounds.
The girls can walk or bike to Titirangi School, or Kaurilands. Titirangi has a new adventure playground, and Konini has its own little school tucked up the top of Withers Rd.
We also go to Titirangi a bit. One of the cutest shops is Gecko, a gift shop filled with all sorts of quirky things, very New Zealand things. I also like the Fairy Flower Shop, they do lovely flowers and crafty things. And there's a new cafe in Titirangi, called Vivo, underneath the post office, they do their own spicy chai latte, which is delicious. It's nice to see a new cafe, as sometimes it felt the place was overrun with real estate agencies' offices. There's a lovely bookstore too called Gone West which I like to visit.
We're just five minutes from Arataki, which is the visitor centre for the Waitakeres with views over to Manukau, and a track that goes to a kauri glade. There's one spot where you're surrounded by kauri, and there's a tree identification area where all the trees are labelled, which is great for me as someone who didn't grow up in New Zealand. They also have exhibitions relating to the natural world and a section where they display the work of local artists. On the way up, there's a restaurant called The Refreshment Room, they focus on using fresh local ingredients.
This area is more about retreating than about having a bustling community, but there is a block of shops in Konini, on the corner of Withers and Kauri Roads. There's a dairy, a bakery, a picture framers, a stationers and two hair dressers. I like those shops although I'm more oriented to Glen Eden and Titirangi. I love the Glen Eden Library, and Peck's Cottage Bakery. That's my girls' favourite bakery, they love the biscuit fudge.
Lopdell House is amazing too, and a key thing in Titirangi. Lopdell House was my first social connection when we moved here. Originally I volunteered there, then ended up running the gallery shop. Later I was on the committee, before taking a break to have children. I'm back on the committee now, because it's such a valuable place. It connects people to the art world. They do exhibitions of international quality, they show emerging artists and they have really good education programmes as well. Lopdell House provides another facet to life apart from school, work and sport.
I can't imagine living anywhere else in Auckland. I used to relate a lot more to cities but I don't think I'd want to live in the middle of a city any more. Besides, we've just done a big renovation on our house with the intention of staying here forever because it's such a great spot.
Suzy's picks
* The Refreshment Room, 233 Scenic Drive, Titirangi. ph (09) 551 1705.
* Arataki Visitor Centre, 300 Scenic Drive, Oratia, Waitakere, ph (09) 817 0077
* Peck's Cottage Bakery, Glenmall Place, Glen Eden, ph (09) 818 5037
* Gecko, Shop 2, Rangiwai Rd, Titirangi, ph (09) 817 8126.
Suzy's pottery can be viewed here. She is a frequent nominee in the Portage Ceramics Awards. See details of the exhibition of past winners here.