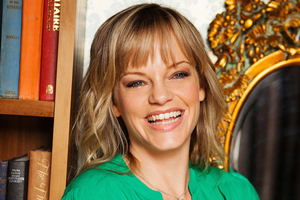 Actress Laura Hill appears in TV One drama Nothing Trivial.
The book I love most is ... My tastes are kind of eclectic - I've got Jilly Cooper sitting next to Jeanette Winterson on my bookshelves. The general theme among books I like is probably escapism. I'm not into hard-core fantasy or sci-fi, but I find gritty contemporary lit just a bit depressing at times.
The book I'm reading now is ... The fourth of George RR Martin's A Game of Thrones series, A Feast For Crows. Devouring is probably more accurate than reading, however.
The book I'd like to read next is ... The fifth of A Game of Thrones series, A Dance With Dragons. Luckily I have it sitting there in the box set, waiting for me.
My favourite bookshop is ... Time Out in Auckland's Mt Eden. The cat (now gone to the great bookshelf in the sky) was a furry bonus. I also love secondhand bookshops.
The book that changed me is ... I've loved reading for as long as I can remember, so at some point, some book must have instilled that love in me. Maybe The Very Hungry Caterpillar by Eric Carle? Who knows. I think any good book should change you a little bit.
The book I wish I'd never read is ... The Da Vinci Code by Dan Brown. A page-turner, but such abysmal writing. I kind of hated myself for reading it. Good storytelling and good writing aren't necessarily the same thing.