Address: 193 Symonds St, Eden Terrace Phone: (09) 377 8537 Cuisine: French Japanese Rating: 8/10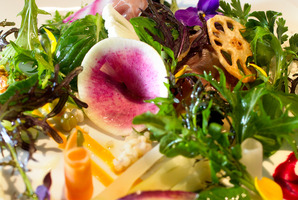 Ignore the window display at the entrance. It's like a tacky still life and bears no resemblance to the experience you'll have once inside. Duck through the discreet doorway on Symonds St and you'll find yourself in the sleek, modern, softly lit space that is Kazuya Restaurant. There's dark wood and concrete and tables covered with crisp white linen, an air of serenity pervades and, though it seats no more than 30 diners, the soaring stud means it avoids feeling stuffy.
The owner and head chef is Japanese-born Kazuya Yamauchi and his food is an interesting mix of European, reflecting his many years spent in Italian kitchens, inspired by his Japanese upbringing. And it is excellent.
The menu indicates you can go a la carte or set menu, of five, seven or nine courses. What we rather liked was the wait staff assuring us that the set menus weren't drawn-out affairs and that we could take them as fast or slow as we pleased, it was up to us. This was a theme throughout the night, with Kazuyu pitching it just right between not being too reverent, yet maintaining the sense of ceremony all the same.
We opted for the seven-course seasonal menu to celebrate spring and off we went.
Some of the most terrific bread, baked in-house, arrived with hand-churned butter to tide us over before our first dish arrived - a tentatively salty diamond clam covered in coconut foam with tiny lime jelly cubes. What a delicious palate opener.
Then came the salmon confit with soft leeks and bright green broad beans - the colours and flavours of the seasons springing into action alright. A third dish saw bulghur wheat, less clumsy than I've ever experienced, with a buttery prawn, scallop and cauliflower puree, surely the most divine way to have this big white flower. Balsamic vinegar added a pleasant bite.
The food kept coming and we became happier by the minute. The signature dish, of over 30 vegetables, that I didn't hold high hopes for, was magnificent. Duck breast with tender stems of broccolini and a seven spice jus was comforting and somewhere in there was a little fish fillet dish but my notes had turned into a frantic, excited scrawl by this stage so I can't tell you what was with it. Overall, in the savoury dishes, the European influence muscles out the tofu and miso and replaces them with ingredients like charcuterie and butter and it works incredibly well alongside the exquisite Japanese attention to detail in the presentation.
I was recently told by someone who follows my reviews diligently that I'm too nice, that if I'm going to put the boot in I should do it properly. This might satisfy him; desserts in this town are beginning to frustrate me with their ridiculous complexity and Kazuya's are no exception. Perhaps they're all doing it to justify the $18 dollars but I've gotten to the point where I'd pay extra just to have them serve up something concise and intact. Kazuya's strawberry tart for example was deconstructed, of course, with bits smashed up, strawberries done a number of ways and the pastry base turning up in the icecream. There was no denying it all had exceptional flavour but I'm not sure I needed it all to be so clever. There, I've vented.
And just when we thought it was all over - and I can report at a genuine feeling of sadness given how wonderful it had all been - a plate of petit fours arrived and my greedy self was cheerful again. Soft green cubes of marshmallow gave up their tea flavour, vaguely crisp chocolate macaron collapsed, as they should, in a textural mouthful and balls of white chocolate made me fall in love again with this not-real-chocolate treasure.
The biggest surprise is how much fun you can have at Kazuya. At one point our waitress gave up trying to explain the cheeses on the cheese trolley because by the time we'd asked her to repeat them several times we'd all collapsed in laughter and it didn't matter anyway - the cheeses were divine and served at the right temperature, ripe for oozing.
Auckland needs more independent restaurants like Kazuya where the food is truly remarkable, the service is slick yet comfortable and the surroundings are non-formulaic. Best of all, there's not a damn slider in sight and no one has to share anything. It's restful dining and we blossomed with the ease of it. Go, you'll love it.