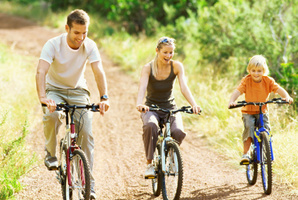 If you're anything like me, prying your pre-teen away from video games and out into the fresh air can be a challenge. However, since my 12-year-old son Jack has seen me training for the Lake Taupo Cycling Challenge he's been keen to hit the road with me. Given I'm still coming to terms with my own training, I thought it would be useful to talk to someone in the know about suitable levels of training for a child. So I had a chat with Lynne Munro, the Regional Development Coordinator for Bike NZ who heads up their school cycling programmes.
Remind them about the basics
Support from parents is the key, according to Munroe. Kids don't have the same perception of health and wellbeing that adults do and their bodies don't handle the same stresses, so we need to make sure our kids have the basics during a ride. Take a few layers of clothing and plenty of water. Keep reminding them to sip at regular intervals throughout the session, which is more regularly than we would. And have plenty of snacks handy.
Distance
Children under 10 can handle up to three hours per week in 30 minute sessions whereas 11 to 12-year-olds can handle up to 1½ hour sessions or around 30kms. Start off with a 10km ride and add another few kilometers each time you go out. As kids get older you can increase the distance.
Building confidence on the bike
Munroe believes the most important thing about getting kids on bikes is building their confidence. There's a big difference between a leisurely ride at the park, cycling on a road in busy traffic and pedalling in event with hundreds of other cyclists. Help your child practice basic road rules and traffic awareness. Munroe says there's no hard and fast rule about what age a child can ride on a road, it's more about judging their level of confidence on the bike first. Focus on mastering bike handling skills before hitting busy streets - can your child maintain stability on their bike while looking over their shoulder to check for traffic? Is your child able to ride one handed while drinking from their water bottle?
You can join group rides at local cycle shop which are generally run early on Saturdya and Sunday mornings. Heaps of cycle clubs also run regular rides and offer a wealth of experience and support for interested riders, young and old. Engaging the services of a coach is also useful. Bike NZ have a large database of accredited coaches willing to work with individual riders, families or groups.
* You can still enter your child in the under 10s leg (5kms) of the Lake Taupo Cycle Challenge on 24 November or you might like to get some other parents and kids together as a team and tackle the relay (4x40kms). Riders can also pedal to raise money for the charity @kids during the race - supporting children with heart conditions.