Graham O'Keeffe, Motat volunteer.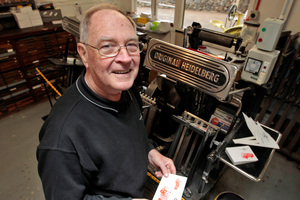 My happy place is the print shop at Motat. I volunteer there every Sunday. I'm a hands-on machine sort of a guy. I have always loved printing and now to be sharing that with so many people who visit Motat is really special.
I started in printing in 1953 at the Taranaki Herald's commercial division. I was about 15. I had a paper run to start with and wandered through the print shop one day and thought that was what I'd like to do. The colour that was on the machine at the time was a cyan, a nice bright blue. I can still see that colour. I liked just watching the machines produce something, seeing the work come out.
Later, when I was training apprentices, I'd tell them, "You're only as good as your last job". That's pretty much life, isn't it? You're only as good as what you did yesterday, and you carry on from there.
It's wonderful to be back practising the trade that I began my career with - I have come full circle, back to working on a second-hand letterpress. People are interested to see how printing is done and I really enjoy sharing my knowledge with them.
I started at the Motat print shop about six or seven years ago when it was a dark static display, which to me did not tell a story. Motat had just put on a new roof over the print room - the previous one had leaked for about four years and they'd had tarpaulins over the equipment. It took us about three or four months to bring them back to life so they were actually printing.
People don't often get to see how printing is done. Today, they've got a computer at home, they draw it up on the screen and it spits it out in colour. That doesn't happen in printing. It takes a lot longer.
People who come through the print shop often say, "Oh, what a lovely smell." I don't notice it, I guess because I'm attuned to it. It's the ink and the solvents and the oil, I guess. It can be noisy, too, if the older machines are running. They clinker and clatter because of their age and their speed.
When people show interest in how printing is done and take printed material away, I feel valued and get a real buzz.
* Motat is open 10am to 5pm daily at 805 Great North Rd, Western Springs. Its school holiday programme, Gum, Grit & Gold, begins on Saturday. Kids (and adults) will get a taste of life in colonial Auckland. Ph (09) 815 5800.