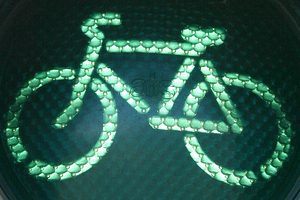 With the weather getting warmer, why not set off on a two-wheeled adventure? All these paths are suitable for confident cycling children, and grown-ups too. Watch for cars at intersections and give way politely to pedestrians, please.
1. North Western Cycle Route
This is such a great path, from the edge of the CBD, starting at Newton Gully, and going all the way out to Te Atatu, following along the North Western Motorway. It's so liberating to cycle on a path without cars, the fear of being squashed recedes, and is replaced by a feeling of liberation. Or jump on at the St Lukes Rd entrance and head west from there. Two thumbs up. Approx 9km
2. Manukau Coastal Cycleway, Mangere Bridge
This is mostly easy flat riding, with the coast on your shoulder, thanks to the sparkling Manukau Harbour. Loads of gorgeous native trees, the planting here is outstanding, the flocks of birds who call the place home clearly think so. Ambury Park is a fine place to get started on this trail. Approx 14km.
3. Devonport to Takapuna Green Route
Start on the corner of Eldon and Esmonde in Takapuna, or the Devonport Ferry building if coming from the city. Expect some heavenly scenery, Shoal Bay is so sweet; and allow plenty of time to stop for refreshments at the numerous cafes you'll pass. Factor in a bit of time stopping at the playgrounds. Well signposted. Approx 6km.
4. Te Atatu Bike Path
From the lights at the motorway offramp and Te Atatu Rd, the path is shared by pedestrians and cyclists. It crosses over the motorway overbridge, crosses the city bound on-ramp (crossing controlled by lights) and then runs alongside Te Atatu Rd, past the pony club and almost up to Cellermans St. From there you can get access to Harbour View Reserve and keep on going. Godwits, historic homes, gorgeous views.