Real estate agent and former city girl Kim-Maree Osborne tells Elisabeth Easther why she and her family think Karaka is a great place in the country.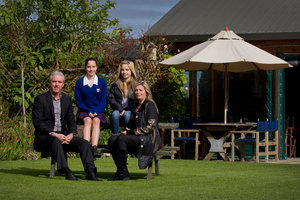 We've been living here for 13 years now. We came from Howick because I had nine-month-old twins and Mum and Dad were here, although I was a city girl, and I only wanted to be here for two years. I was used to cafes and city life, and I didn't think I'd enjoy the country, but you wouldn't get me back into the city now. It's such a lifestyle out here, it's great for family life, the schools are fantastic, they still have calf club, that kind of thing. It's wholesome New Zealand.
We have lots of lovely restaurants and cafes. You have to go to St Margaret's Cafe, in Karaka, it's this gorgeous little country cafe. They're licensed and they have a lovely open fireplace. In the summer all the tables are in the garden, and they do garden tours because it is that gorgeous. The food is to die for, pork belly on rhubarb and apple, with sliced potato cake, just delicious.
Opposite St. Margaret's we have the wonderful Karaka Country Market. They do gorgeous gourmet meats, different types of wine, and pasta, fresh vegetables and fruit, and really nice things like fennel and you can get coffee there too.
It's very Italian-based, but they do all the international stuff too.
Clarks Beach is just through Karaka, 15 minutes from the motorway, and there are fabulous beach walks, with white sandy beaches. You can still scallop out here at low tide. There's a lot of windsurfing, and sailing but you can't hire them there yet so you need to take your own gear.
At Clark's Beach there's a fabulous restaurant called Chin Wags, they've won awards for their food, they do brilliant cuisine. They're open Wednesday to Sunday, and they're fully licensed. We've also got an 18-hole waterfront golf course, one of the most beautiful in Auckland. You can see the sparkling water from the tees. It's a hard course though, I've lost a few balls, but it's really reasonable to join and we get a lot of people out from Auckland.
There's Kariotahi surf beach which is five minutes from Waiuku, so just 15 minutes from where we live. They do motorbikes along the beach, and you can ride horses, the girls just love it there. There's another great restaurant called the Patumahoe Village Bar and Kitchen, and across the road is a cafe called The Butcher's Daughter.
And Wright's Water Gardens at Patumahoe are stunning, just lovely, there's a waterfall, water lilies and a cafe.
There's a lovely venue out here called Chapel of the Cherubs, my mother created it from scratch. She went to Canada to the Beauchamp Gardens and then had this vision that she's spent the last 15 years creating. The chapel ceiling has been hand-painted, with cherubs flying all over, the gardens are amazing. It's a lovely venue for receptions, weddings, christenings, and there's beach access too. She's sold it now, but it's so beautiful. Then there's the fishing, it's very good in the Karaka Harbour. If you go over the bar through the Manukau Heads, there are some very big fish. Or you can fish off the wharf at Clarks Beach; there's snapper and gurnard and kahawai, and because a lot of people tend to go to the other coasts, you don't get the hordes here. I have a picture of a guy pulling a huge fish in off his front lawn, a great big kahawai.
I don't think I'd ever be able to leave. We thought about it when the girls had to go to high school, then we went to town and saw the sizes of the sections, and we knew we couldn't move.
When people come out to look at houses, I tell them what's available, and I say we don't need to leave town for anything. Once you had to leave for your Lotto tickets, but not anymore, we've got everything.
Kim Maree's picks
* St Margaret's Country Garden and Restaurant: 6 Dyke Rd, Karaka, Franklin. Ph (09) 292 7536. Great grounds, delicious food, perfect for a long lunch.
* Clark's Beach Golf Club: 100 Stevenson Rd, Clarks Beach. Ph (09) 232 1788. Pohutukawa lined fairways, easy walking, although challenging golf.
* Chin Wags: 8 Seaway Rd, Clarks Beach. Ph (09) 232 0405. Consistently great food, winners of numerous beef and lamb awards.