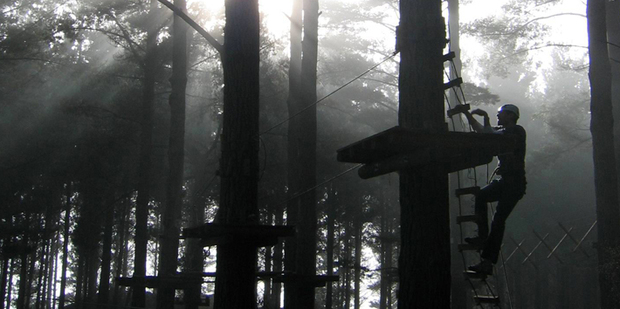 Fancy a spot of highly strung fun? Then take to the ropes.
1. Tree Adventures
Boundary Rd Woodhill Forest. Ph 0800 827 926.
If you go down to the woods today, you're sure to have some fun. For ages 5 and up, this place gives meaning to the expression "learning the ropes". A bunch of courses to choose from, and a great way to challenge yourself and others.
2. Rocket Ropes
12 Tom Pearce Drive, Auckland Airport 2022. Ph (09) 275 8880.
Next to Butterfly Creek near Auckland Airport, this is a great day out for the kids and adults too. Two courses provide four levels of intense high rope fun - each with their own climbing tower, New Zealand's only powerfan five-storey free fall, a 12m giant sky swing, two ripper zipper lines and a whizzy 120m-long flying fox.
3. Rock n Ropes
Karetoto Rd, on SH1, Wairakei.
Ph (07) 374 8111.
Overcome your fears and get your adrenalin pumping at Rock'n Ropes, with different options for all dispositions. And if you're feeling faint-hearted, you can simply observe from the cafe at Huka Honey Hive.