Danielle Wright discovers a high tea that's as much about the mums as it is about the daughters.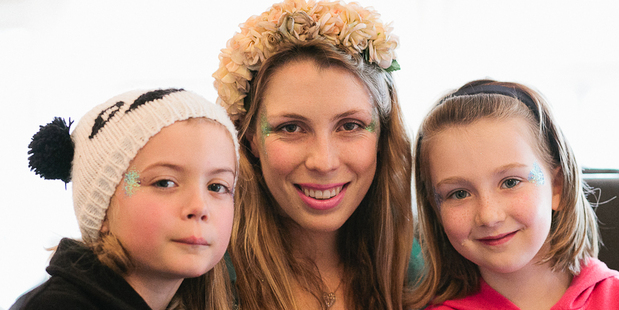 A table of tween-aged girls sit politely eating finger sandwiches. I have to admit, they look a little bored. Their mothers on the next table, however, are beaming with pride at the manners their little darlings are displaying.
Another table is filled with much younger girls, dressed in princess gowns with tiaras, popping tiny pink lamingtons, mini sausage rolls and pies carefully into their mouths between visits by a resident fairy carrying a basket of face paints, books and bubbles.
Little fingers lift glasses of pink lemonade or hot chocolate poured into tea cups covered in pink and white polkadots and, unlike usual gatherings of excited children, the noise level is remarkably low.
The high tea tradition at Cornwall Park Restaurant, nestled next to the historic Huia Lodge and within beautiful grounds, has been celebrated here since the early 1900s and once a year, a special version for the littlest ladies in the family is held.
Owner Dean Johnson came up with the idea when his daughter was six and tells me: "We sometimes get three, or even four, generations at one table. They all love getting dressed up for afternoon tea and mothers often tell me they came here with their mum or grandma when they were little. It's a bit of a rite of passage."
I'm here with my auntie Robyn and cousin Summer, with the special guest of honour, my three-year-old daughter, Georgina, who has decided it's more fun to climb under the table and try on all our shoes.
Back at her seat, she tries a few of the pinker items on the three-tiered cake stand before finding the whipped cream and dipping her finger into it, with much glee, in between sips of pink lemonade in an old-fashioned mini milk bottle.
Towards the end of the session, the fairy gathers up the girls who have finished eating and plays games with them. They are pretending to "crawl like caterpillars" around the tables and next, "jump like frogs".
Too busy chatting to my auntie and cousin, we don't get through much of the food, which is taken away and arrives back at our table a few minutes later in handy take-away boxes for the dads and brothers left at home.
Considering I had looked forward to the event for months, it wasn't all that I'd hoped for, but, even still, it will be a day I'll remember - there's something about dressing up and taking your daughter out to a restaurant that can make any ordinary day, special and memorable.
Tea parties
* Cornwall Park Restaurant: Greenlane Road West, Cornwall Park, telephone: 09 630 2888 for reservations.
* The Little Ladies High Tea: happens annually, around mid-winter. High Tea at other times of the year is on weekdays from 9am-11.30am and weekends from 8.30am-11.30am or in the afternoon between 2pm-4pm, seven days. Prices start at $25.50 per person (minimum two). A gluten-free high tea is also available for $28.50 per person.