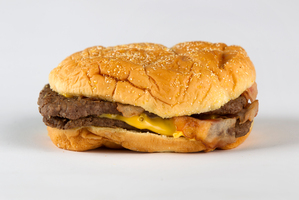 In the adverts, burgers sit proudly with plump bread, char-grilled meat, perfectly melted cheese and sauce gently nestled among lettuce and gherkins.
But the reality at the counter can often look far from what is promised - sweaty meat and saggy lettuce housed in a squashed doughy bun.
The disparity has led to complaints from customers, but the majority fail. Advertising guidelines state the adverts are acceptable as long as the ingredients are the same and the product is fairly represented.
However, an immense amount of work goes into the advert image - food stylist Dianne Kenderdine says it often takes days to make fast-food burgers good enough.
Stylists search for the perfectly round patty, brown it perfectly before putting it on a bun chosen from hundreds, and a lettuce leaf deemed superior because of its wave.
"And it's partly how you look at it," Ms Kenderdine said. "The camera angle when you're a person looking up at it [on a billboard or menu] makes it all look bigger, better and brighter."
Ms Kenderdine has been in the business more than three decades and over the years has styled burgers for McDonald's and Burger King.
"I use dental equipment. I find that when you're doing close-up work and you're just trying to place things precisely, you don't want to interfere or you want to tweak things slightly, I find dental equipment is perfect," Ms Kenderdine said.
The Herald went to five popular fast-food chains - McDonald's, Burger King, Wendy's, KFC and Subway - and ordered one item in each to compare.
The KFC Zinger Burger looked small, the Big Mac patties were completely hidden by the buns and the lettuce edges were brown, the Subway BMT sandwich was completely squashed, the Wendy's Baconator appeared to have just patties and bun while the Burger King Whopper was voted "the plumpest".
Ms Kenderdine said burgers were made in-store with hot ingredients, but were styled cold.
"That's the main thing - all the burger chains here incorporate salad ingredients with hot ingredients.
"So as soon as you put a hot patty on lettuce, it's going to wilt and not look as good."
Photoshop is an optional last resort but "if you need a lot of Photoshop, the whole exercise just becomes so expensive", she said.
A senior lecturer in hospitality at AUT University, Lindsay Neill, said customers understood the difference between the ads and real life.
"Not once during the few times I've been to McDonald's have I heard people complain that their food doesn't look like it does in the adverts," Mr Neill said.
"They don't go to those places because of what the food looks like - they go because they're hooked on the price, hooked on fat or hooked on salt."
INTERACTIVE GRAPHICS: SLIDE OVER TO SEE AD VS REALITY