Keen cyclist Murray Benns tells Elisabeth Easther why he loves living in Beachlands.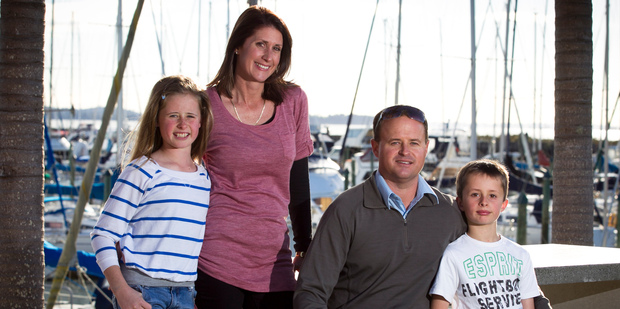 We moved here to Beachlands about seven years ago. We'd been in South Auckland, in the gardens of Manurewa and we moved here to get out of the 'burbs and be closer to the sea. It's a great seaside town with a very small community of about seven thousand people. It's got a great community feel, and feels really safe to bring up kids. Here they can still play out in the streets and parks and the neighbours keep an eye on them. You can send the kids down the road with their friends, there's someone always looking out for them, they'll even feed them lunch.
One thing we especially love is living by the beach. We own a boat, and seeing the water every day means we use the water a lot more than when you don't see it. You can see what's happening on any given day, and choose your days.
We mainly pop the boat in at the Maraetai Beach Boat Club which is the largest boat launch in the area. They also have a sailing and fishing club, a bar, and the best views from the restaurant. You can sit over the water, and because it's a club, the food and drink prices are very reasonable.
Pine Harbour is good to visit. Every Saturday, rain or shine, there's a French market at Marina Green. The kids run around while we sample the local flavours and listen to old French jazz. Bastille Day was very busy.
The ferry service is great too. They put on a bigger, newer ferry about six months ago, and it's just 35 minutes to the CBD. There's no weekend ferry yet but the planned growth for the area is substantial. Some locals aren't into the growth, but with it comes better facilities, better cafes. A lot of older people came to the area to get away from it all, and they want to keep it that way and we understand that too.
We've got Omana and Duder Regional Parks a bit further round and they're great for walking or bike riding. They're such clean, green, open spaces, great beaches. The Pohutukawa coast is very scenic, and when the pohutukawas are in bloom, it's amazing. I belong to the Pohutukawa Coast Bike Club, which was formed in 2010. Paid-up members get a permit to ride legally in both Maraetai and Whitford Forests; there are 35 mountain bike tracks, ranging from grades two to five. These tracks have quite a lot of downhill stuff, it's not a flat terrain park. But it's very interesting, beneath mature forest that's been growing for 15-20 years plus. It's so peaceful and scenic and it smells amazing. I try to do at least two rides a week of about 10-15km. A bunch of my mates have formed our own little club, on Facebook we're known as the MLC, which stands for Mid Life Crisis, because we're all approaching 40. The club has grown from four people; there are 16 of us now.
We have plenty of eating and drinking places to choose from round here. There are nine cafes and restaurants, and two boat clubs with their own restaurants. Down at Pine Harbour there's Pepper Jacks, they've got a great view and ambience, kids can run about and play on Marina Green, and the food and wine are great. In that same precinct, the English pub The Jolly Roger looks out across the marina to the west, it's amazing at sunset. There are a few other restaurants: Wharf Cafe at Maraetai Beach and The Bach Inn. There's also the Ruen Thong, the Thai place, which is known as the Broken Jandal, they do really good Thai food; the Wakelin Road Bakery is great too.
As the name suggests, there are plenty of beaches here in Beachlands, and an abundance of marine activities on the doorstep. It's an excellent place to bring up a young family, an affordable rural environment. It's the people who make the area.
Murray's picks
* Pepper Jack's: Jack Lachlan Drive Beachlands. 09 536 4659. Food, views and service all fabulous.
* Pohutukawa Coast Mountain Bike Club. Membership entitles people to ride in Maraetai and Whitford Forests. Adults $25, schoolchildren $10 and $50 for a family membership.
* Maraetai Beach Boat Club: 188 Maraetai Drive Maraetai Beach. 09 536 6649. The menu changes weekly and the views are some of the best in Auckland.
* Wakelin Road Bakery: 36 Wakelin Road, Beachlands, 09 5364048. The pies (and everything else) are splendid.
This September Murray is competing in the 40km Contact Huka Cruiser Mountain Bike Challenge in Taupo. For more information go to: cyclechallenge.com.