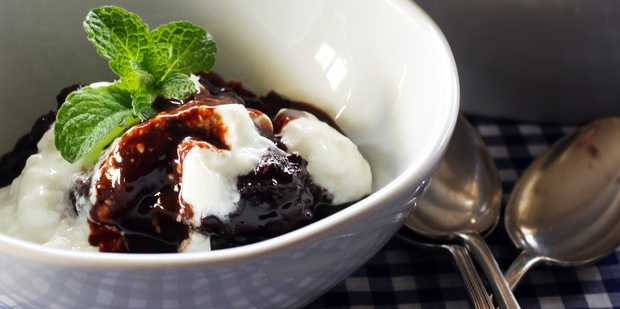 Dad will love this on Father's Day night. This recipe is another contribution from Grandma Law (see her fruit cake recipe opposite) and is so easy.
1 cup flour
2 tsp baking powder
½ tsp salt
½ cup sugar
¼ cup cocoa
75g melted butter
1 cup milk
1 tsp vanilla essence
For the topping
2 cups brown sugar
¼ cup cocoa
2 cups boiling water
1 Preheat oven to 180C.
2 Sift flour, baking powder, salt, sugar and cocoa into a mixing bowl.
3 Add butter, milk and vanilla and mix well. Pour into a deep, buttered, 20cm round ovenproof dish.
4 Combine brown sugar and cocoa and sprinkle over pudding. Pour over boiling water and bake for 40 minutes. Don't worry if it looks like a mess, it will be fine, and tastes delicious.
You can easily halve the sauce recipe, but who doesn't like lots of chocolate sauce?