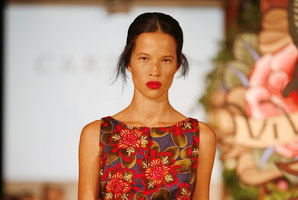 Fashion week organisers say they will meet designers to try to protect its future.
The event kicks off tomorrow night with one of the smallest line-ups since it started more than a decade ago. The number of international buyers in attendance has also dwindled.
Many designers struggled to afford the Fashion Week fee, up to $24,000, for just a few minutes on the catwalk.
"The writing is on the wall," said Paul Blomfield, chairman of Fashion Industry New Zealand, which represents local designers.
Already, organisers reveal they have called off next year's Fashion Festival, an autumn event that is open to the public.
Organiser Myken Stewart cited difficulty securing a venue as the main reason, and added she was due to give birth to her first child later this year.
Stewart said focus groups would be held in the coming weeks to figure out ways to revitalise New Zealand Fashion Week, the biggest event of the fashion calendar.
The focus groups would include designers who had deserted the event.
"Without the designers, we don't have a gig. We need to figure out what we need to do it better, basically," she said. "It's not just up to us, the industry needs to evolve as well."
Stewart said Government funding of $400,000 a year would mean the designers would not have to pay at all.
Stewart said it would most likely remain "exclusive" rather than become a public, ticketed event.
Fashion Weekend and Designer Garage Sale, open to the public, were bigger this year to encourage local customers to open their wallets.