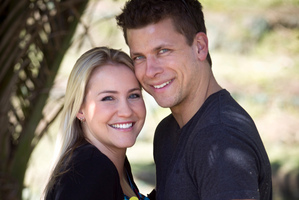 Traditionally the cost of a wedding is meant to be the father of the bride's headache - but these days it's often the guests left with empty wallets.
"Destination weddings" at overseas or remote NZ locations are becoming increasingly popular.
But when the bills for travel, accommodation, gifts and hen and stag nights get posted, as well as the effort of getting time off work, the appeal of watching your loved ones get hitched can wane.
Wedding planner Lisa Hill said it was normal to expect 10 per cent of a guest list not to be able to make it to an "average Kiwi wedding", but that percentage increased if the nuptials were held overseas.
When James Clarke and Amanda Thomas sent out the invitations to their Fiji wedding, they expected that only half of their guests would be able to afford to come.
"Obviously having it overseas, cost is a factor, also time off and work commitments," Mr Clarke said.
"Holidays planned also came into play with whether people could come or not.
"But we sent out 190 invitations and we've got 100 people coming, including kids, so it kind of worked out as expected."
There were no hard feelings towards those who couldn't go. Mr Clarke said he and Ms Thomas understood.
They let their friends and family know about a year ago that they were hoping to have their nuptials overseas so they weren't blind-sided with a huge cost to watch them exchange their vows.
The 23-year-olds chose Fiji because they had been there a few times and Ms Thomas has a bit of family history there.
"We just wanted to keep it relaxed and calm," she said.
"We've got people coming from all over the place, from the UK and Aussie and stuff, so we're just getting everyone together to have a wedding and a holiday at the same time."
The couple are not alone in their desire for getaway nuptials. Mrs Hill said having "a weekend of it" rather than just having the wedding day was becoming increasingly popular.
Guests should expect to pay a couple of hundred dollars for accommodation, sometimes more than $1000 on travel depending on the ceremony's location, as well as buying the couple a gift.
For women in the bridal party, the costs climbed, with "hens' weekends" at spas or resorts also becoming de rigueur, said Mrs Hill, the owner of Beautiful Events.
And on top of that, there was suit hire, shoes and bridesmaids' dresses to pay for, Mrs Hill said. "So it can all get pretty expensive."