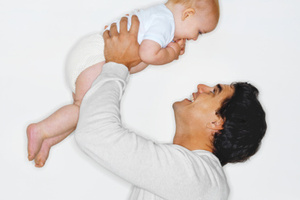 Fathers of newborn babies are on average five years older than their fathers were when they were born, according to new figures.
Statistics New Zealand has released a bunch of facts about dads to celebrate Father's Day this Sunday.
On Father's Day last year, about 150 men received a new baby as a present.
Dads with a child under the age of 14 spend about five hours caring for for their kids during the week and eight-and-a-half hours over the weekend.
The average age of fathers of babies born last year was 32, however 14 out of a 100 babies' fathers were aged 40 and over, and one in 100 babies had a dad aged 50 or over.
Just over 30 per cent of babies born last year have fathers who were not born in New Zealand. Of these men, a quarter were born in Samoa, Tonga or Fiji, about 15 per cent were born in the United Kingdom, and 10 per cent were born in China.
Statistics New Zealand said the figures were based on birth registrations and a 2011 time use survey.