The Cleansing of Mahommed by Chris McCourt
Fourth Estate $34.99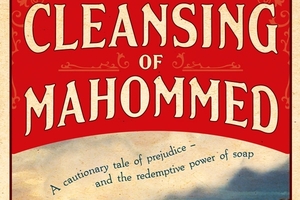 Let me start with a warning. I intend to rave about this novel.
A young Arghani immigrant works desperately to make a place for himself in the West. All he wants is to be accepted and happy. Alas, the West (Australia) and its inhabitants reject him. His ambitions warp into anger.
Sounds (over)familiar? The difference in this case is that it happens during World War 1, when Gool Mahommed - mullah, camel-driver and aspiring mine worker - tries to come to terms with the gruelling Australian outback and with his attraction to a local woman who is an exile in a different sense.
It's Mahommed's second time in Australia. His first experience was disfigured by deception and exploitation, a humiliating return home, conscription in the Turkish army. Now he's back, with his totemic bar Lifebuoy soap. Yes. I did say Lifebuoy soap.
He comes to Broken Hill, "a place with streets called Sulphide, Oxide and Chloride," a town of tacked-together corrugated iron shacks with sacking doors, flour-bag curtains, backyards of baked dirt.
It's a town also of ludicrous propriety coupled with brutish bigotry. Stares, insults, degrading practical jokes are everyday experiences for the "Turks". Blows and worse are seldom far behind. The only allies for Mahommed and his kinfolk are that other despised group, the Aborigines.
There is loyalty and treachery of all kinds, right down to the most mercenary. There are unexpected moments of comedy, and a love affair driven by its own terrifying force.
Cleanly and closely written, the narrative strides inexorably forward. The setting evoked with total authenticity, and without ever slowing the pace of the story. Characters and cultures are weighed, tested, judged with stern compassion. Mahommed is a splendid creation: idealistic, raffish, innocent, admirable and doomed.
There are marvellous scenes: a man dancing in the red desert; a pyre of worldly goods blazing through the outback night; love-making in a hovel whose walls are lined with jingoistic newspaper articles.
The book builds irresistibly to the horror of mass killing, the destruction of personal and public decency and an almost unbearably moving scene of desolation and devotion. There are no victors, except for the novel itself, which is as startling and satisfying as any you'll read this year.
David Hill is a Taranaki writer.