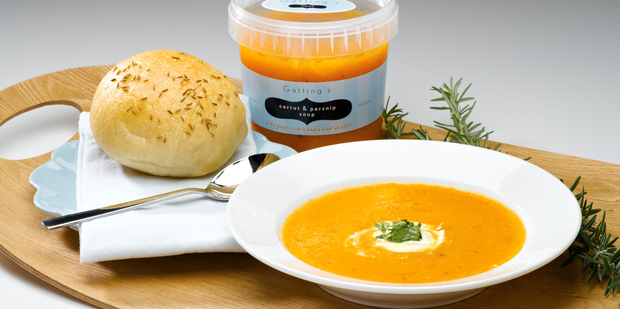 With these recent cold snaps, it seemed high time for an article on soup. And this one has a particularly interesting story behind it. Sally Gatting certainly didn't start this journey as a soup producer - in fact she didn't start this journey in the food industry - but she's truly ensconced in it now and the Gattings brand is expanding rapidly.
Sally was originally in finance but has always had an obsession with cooking.
Having her kids and taking a break from corporate life gave her the chance to follow her true passion and start a catering business. Serendipitously when her son started school, it turned out three sets of parents of kids in his class were funeral directors and through this, Sally ended up as a funeral caterer!
"It's an unusual part of catering to be in, but also a great privilege to be part of someone's final send-off and to be able to make it as nice as possible for family and friends in their time of grief," says Sally. Gattings gained quite a reputation and now has contracts with all Auckland's main crematoriums and leading funeral directors as well as doing events and corporate catering.
And the soups? Well, the Gattings team always hear "I wish we could buy that in the shops". And finally they decided it was time people could. There are big plans for a wider range but the launch products are soups - all 100 per cent natural and all hand-made.
My favourite was the carrot and parsnip. The heat of the ginger and chilli was wonderful and prolonged the warming effect of the soup; and the aroma of rosemary and cumin completed the whole sensory experience.
The Thai pumpkin and kumara was also good with lovely hints of lime and chilli to balance the richness of the coconut cream. The split pea and ham was a chunky home-style soup and the the osso bucco would have made a meal in itself chock-full of beef, tomatoes, leeks and a mix of cannellini, lima, kidney beans and chickpeas. The creamy chicken and corn was a bit subtle for my taste.
I have to mention Gattings at Home also do an excellent lemon curd. Sally recommends spooning it into pastry cases as a quick finger-food dessert but I would have trouble getting it into them without eating it all off the spoon first.
From finance to funerals and now retail too, Gattings will be a name to watch over the next year as the rest of the range rolls out.
Where to buy: Farro Fresh