Tane Tarlton (10) is Kelly's Tarlton's only grandchild, and ambassador for the Kelly Tarlton's Young Explorer Programme. The initiative is designed to teach children about marine sustainability and includes a competition for six-12 year olds where 10 lucky winners will be made VIP members for a year. He tells Elisabeth Easther about his life in the inner city around Symonds St area with his mum, Fiona.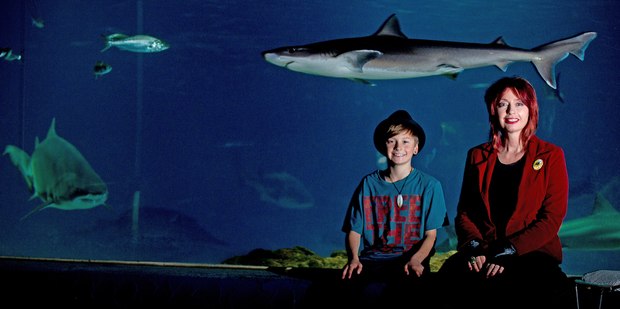 I was born in Auckland Hospital and lived in Orakei until I was eight. I have been in the Symonds St area for the past two and a half years, and I go to Parnell Primary School. There are lots of good teachers and the principal is great too. It goes right up to year eight, and then I'll go to Auckland Boys' Grammar.
I really like it round here, there are lots of activities, like down at Wynyard Quarter they're always having events. I like to unicycle down there. I started unicycling when I was about eight; you can go up and down hills and you use your thighs to brake. Sometimes I go in the Santa Parade. What happens is, you go to this place where these three ladies make all these amazing costumes and you get fitted. On the day of the Santa Parade you get changed, then you are given a certain block in a street. Last time I was dressed as a jester, I hope to do it again this year.
I've always liked kites and about five months ago I went to the kite shop up the road. It's called Kite Works and is run by this really cool kite man called Perrin. He sells lots of different types of kites; the type of kite I like best is a power kite.
It's like a parachute but smaller, only they're really expensive. There is a risk of taking off into the sky, my mum worries about that. Perrin is quite crazy about his kites, he flies them, sells them, fixes them and makes them. I loved the Kite Festival for Matariki. It was really amazing, there was one that was a big blue whale, and the blue whale just by itself was about $10,000. There were about 50 kites up in the sky, it looked so cool.
I quite like going to the shops in Newmarket, and I especially love the comic book shop called Heroes on K Rd. I started liking comics a little while ago. I bought my first one, a $3 comic, it was The X Files and now I think I have about 10 comics. I've also gone to Armageddon, that's really cool.
I use to go to hip-hop classes, and now I do dance classes. I go to this place called Extreme Rhythm at St Mark's church hall on Remuera Rd once a week. After I've done my dancing, I might go to Carl's Junior Burger, it's coming to Queen St soon, I can't wait. Carl's Junior would be my number one place to eat and my number two would probably be Ella on Ponsonby Rd and the owner is like my adopted brother. It's a really cool restaurant, it's German food and you also get free jelly beans.
My best park is The Domain, which is where I'd go to kick a ball around. I also do athletics in the summer and I've run in the Auckland Kids' Marathon the past three years. If it's a windy day, I'd visit my grandmother in Orakei and bounce on her trampoline. I go to Extreme Trampoline in Onehunga for lessons.
I also really like to go to Kelly Tarlton's, I go there any time I like. My favourite thing there would probably be going in the shark cage. I have fed all the fish there and I've also been in the stingray cage. As the ambassador for Kelly Tarlton's I go to all the events.
It'll be cool to see who wins the Young Explorers' competition. When I grow up, I think I'll be involved somehow in the family business, I'll go to the events, and speak. When I grow up I'd also like to do something involved with sport, I'm really fast.
Tane's picks
* Carl's Junior Burgers: 113-117 Felton Mathew Ave (Glen Innes) St Johns. Ph (09) 528 2145. Tane's favourite char-broiled burgers.
* Kite Works: 181 Symonds St, Eden Terrace, Auckland. Ph (09) 358 0991. Tane loves his fast parachute kite.
* Heroes: 277 Karangahape Rd, Auckland. Ph (09) 307 0682. The best comic store around.