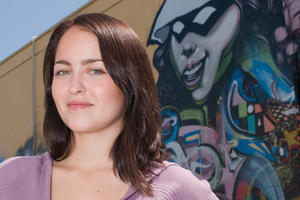 For many teens struggling to catch life's curved balls, the specialists at Youthline steady the hands.
Youthline has been helping lost teenagers find their way again for more than 40 years with its Youth Transition Services (YTS). Jasmin Albert, now 22, linked up with Youthline through counselling.
When she was in Year 9 at high school she was badly affected by disruption in her family and, after being expelled for disobedience and truancy, went to Youthline's Alternative Education School.
She says her teens were a rocky time when she felt quite helpless. At the time she didn't particularly enjoy being in alternative education, but after leaving she saw how much it benefited her. "I preferred Alt Ed to mainstream because each student gets more attention - there's far more one-to-one."
After leaving school, Albert did a foundation course at Unitec. "I didn't do well and felt quite lost and that's where Youthline Transition Services came in for me.
I was a self-referral as I knew I needed help."
She spoke to youth workers who helped her figure out where she wanted to go and what she wanted to do, and how to get her credits up so she could do it.
She went to the Regent Training Centre where she did teacher aid training. "I was coached for my interview for the training centre and told how to dress. The youth worker even offered to take me to the interview."
She says she did "okay" in this training, and enjoyed it. She got frequent texts from YTS checking that she was alright. After her course she linked in with YTS again to work out where to go from there. "We found out information for a university course, went to the open days and the youth worker helped me fill out the applications."
Albert is now in her second year of the three-year bachelor of social practice degree at Unitec and is doing her internship through Youthline. "It's fascinating to see things from the side of the youth worker. Once I finish my social work degree I want to study alternative education so I can be a tutor. During my practicum I've done some work in the school - and I've found that I really like working with young people."
Morgyn Hartdegen, the intake and follow-up team leader, says transition services at Youthline are evolving to concentrate on three categories of young people: young parents, young people not in education, employment or training (Neet) and those on the youth benefit.
"The service is voluntary for the Neet group, but for the other two groups the expectation is that people are engaged with the service as part of accessing benefit payments.
"Young parents will get parenting courses, budgeting, education options and training - there is less of an emphasis on employment as an outcome, and more on education/training outcomes - and work-based experience.
"With the new Government welfare laws, young people on the benefit have certain obligations. We're there to help them feel empowered and build up their skills. We look at meeting their needs holistically as well as how they become financially stable."
She says building a meaningful relationship with the youth worker is important.
"The youth worker can help with future planning, look at what the young person wants to achieve in their life, and all the life skills involved in this".
Hartdegen, 25, herself has benefited from Youthline's services. She didn't go through YTS, but came for counselling at the organisation in her teens.
She says: "My involvement with Youthline started in February 2009, as a volunteer. I became a helpline counsellor by completing the action education personal development programme, Youthline's basic youth and community counselling skills programme, and the transition programme. I'm now a facilitator of these programmes and others having completed the Group Dynamics course.
"I'm passionately committed to empowering young people and their communities. As a teenager with some poor coping strategies, I was in a pretty dark place and withdrew from my friends, whanau and all that I loved about life - until I began having counselling at Youthline."
Hartdegen says through her work at Youthline she's developed a passion for mental health and has decided to pursue post-graduate studies to become a clinical psychologist. "Working at Youthline for the past three years has allowed me to really discover my strengths."
Hartdegen has been involved in developing various Youthline projects, such as the drama toolkit. She contributes to a radio show on 91ZM called The Sealed Section, where she answers young people's questions and concerns and contributes a column to Youthline's magazine.
Her advice to young people is: "There are times when it's hard for a young person to believe in themselves and see their own potential. Youthline can be alongside you and help you to see all your potential in the times where you perhaps can't."
The clinical services manager at Youthline, Glenda Schnell, says Youthline provides services for any person aged 16 to 17 needs to make a transition, moving into education or employment.
Young people have been referred to the service through schools, parents or other concerned adults or themselves. Schnell says the first thing done is a needs assessment. "There's a getting-to-know the young person - that person's strengths, challenges and goals and where to go from here. A plan is developed, based on their goals, needs and barriers to achieving the goals."
The programme helps the young person with things beyond training and employment too: building confidence, navigating systems, accessing birth certificates and anything else that's a barrier to them achieving their goals.
"A youth worker is allocated to the person, and interventions are planned. This may mean that other services are required and referrals are then made."
Schnell says, "The programme is all about supporting young people along their journey. This can mean supporting their family too. There's a lot of building of trust, mentoring, supporting and guiding."
She says it's important to realise that although furthering education is harder for young people who've dropped out of the mainstream, it doesn't mean they have no educational goals.
"This is about helping them achieve those goals through support and engagement - it's about finding a way."
- To hear Morgyn Hartdegen on the radio, tune in to ZM (91.0) on Monday from 9:30pm to 11pm, or at zmonline.com or download the podcast from iTunes.
Disclaimer: Val Leveson is a counsellor for Youthline.