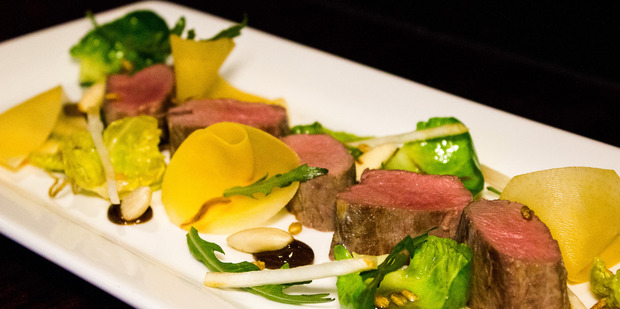 Though Chris Carthy's career started with meat, it's certainly taken a few wild turns before arriving back at that point again. Starting work in a butcher's shop when he was 12, he learned all the old school tricks of "real butchery" and loved every minute of it.
Since then he has also studied jazz percussion, set up a surf clothing label, been a roadie for the Rolling Stones and worked extensively in the film industry. But it's all come back to his first love. In 2007 he bought a property in Canterbury and started breeding merino lamb with farmer Duncan Calder.
Duncan has four generations in the business, so knows a thing or two about how to raise good meat.
Chris is extremely passionate about their meat, Bycroft Artisan Meat, being as natural as possible. "We let the animals graze on the hilltops without being bothered and have let the native plant life take hold where possible.
The final seasoning is achieved with the herbs and natural grasses - plantain, lucerne and chicory - along with other hand-selected pasture species. This allows the animals to find what they instinctively require for their health." he says. "Merino are wanderers and need to be able to browse, not be forced to eat what is put in front of them. We also work with butchers who are very supportive in the slaughtering process - very low-stress and sympathetic to our requirements."
Now he's decided to take his product to the nation with a door-to-door service. Customers can either order a side or a whole lamb, all conveniently chopped into portions and vacuum-packed. Order online and it arrives at your doorstep deep-chilled in a polybox.
The quality is excellent: whether it be shanks slow-cooked or mini-roasts cooked on high in the oven. The fine grain of the meat gives it a meltingly tender texture because merino lambs store most of their fat on top of the muscle, rather than through the meat. The meat has a lean "all lamb" flavour rather than a fatty mouth-feel.
I love the idea of lamb fresh from the farm, especially for townies and suburbanites who don't know farmers or have access to that wonderful unprocessed flavour. The best of farm meat, available online and packed in convenient sizes for busy modern people. Genius.
Where to buy: bycroftrural.co.nz