Address: 57 Fort St, Auckland.
Ph: (09) 300 7252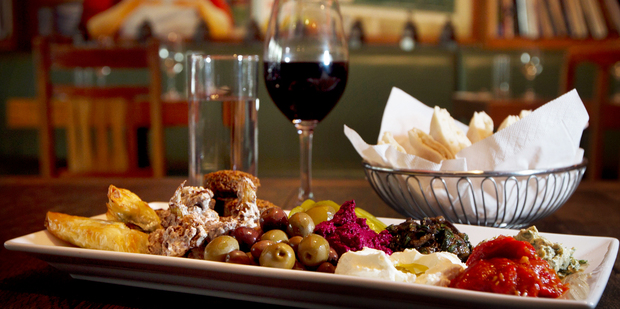 Just across the street from the "Road Closed" sign, and in the middle of the roadworks right in front of the restaurant's entrance, sat two massive orange graders. But, like a still life painting, they were parked stylishly, blade-to-blade.
Once inside, Ima Cuisine reminded us of a European family-style restaurant - but with Israeli attitude. It was also remarkably busy given the bombsite outside.
It's lovingly crafted with scrubbed wooden tables, portraits and paintings, and downlit through orange-backed Perspex decorated with Turkish-style black curlicues. The attentive wait-staff presented us with water and a menu that covers cuisines from the various countries that border the upper Mediterranean - predominantly Israeli, but with Lebanese, Turkish, Moroccan, North African and even Italian on offer.
At Yael's suggestion we tried the three most unusual of the four entrees: the lamb kibeh, the brikk and a "selection of Middle Eastern delights" to share between two.
All three dishes arrived quick-smart, accompanied by the freshest and lightest pita bread ever - not even a distant cousin of the kind you buy in the supermarket. The traditional North African brikk turned out to be a home-made pastry parcel containing fresh tuna and preserved lemon surrounding an egg cooked to just the right consistency and which, once opened, provided a creamy sauce. The pastry was feather-light and the entire concoction delicious, though I needed (and received without complaint) more salt.
The "various delights" were generous with big dollops of lightly whipped hummus, tender olives, a fantastically tasty salad of marinated capsicums, cucumber, onion and more. Last to arrive were the lamb kibeh, which our waiter again cut in half so all four of us could all try the minced lamb and pine nuts in a bulghur wheat shell. Although it was a little dry and crumbly for my taste, the men fell on it with relish.
By then we'd chosen from a wine list that's as extensive and almost as interesting and unique as Ima's food. There's a large section of aromatics, excellent ranges of local sauvignon blancs, chardonnays, and pinot noirs, including "Ima's Blend" (a little merlot for body) plus an interesting collection of other reds. Many wines can be ordered by the glass or carafe.
Back to our main courses. My Moroccan chicken leg, which had been deboned and stuffed with pine nuts, dried fruits and spices, was typically Moroccan - quietly but complicatedly flavoured, in this case with saffron, ginger, cinnamon and coriander. This allowed the individual tastes of chicken, pine nuts and apricots to come through.
Chris' blue cod, with its citrusy, fruity Israeli couscous, was nicely cooked and Brian's seafood pasta al corroccio was one of the hits of the night. Everything was faultless: the fettucini ribbons truly were homemade, the fish was firm, the prawns, mussels and clams were plump, while the tomato sauce whipped the dish into the big time with just the right amount of chili and a handful of fresh-chopped fennel.
Tonia, who chose the slow-roasted Lebanese lamb shoulder as her birthday treat, reported that although the lamb was meltingly tender, it wasn't exciting enough for her palate. On the other hand, like all our dishes, the serving was generous and the tastes, once she got used to them, allowed the flavour of the meat to come through.
And yes, we couldn't resist the desserts and have to report the knafeh, an Arabian offering of soft goat's mozzarella with kadief and drenched in hot syrup and pistachio nuts, was wonderful. Yael told me it would overcome my anti-goat thing - and it certainly did. This was one of the most delicious and delicate desserts I've tasted. Shame it came after such a generous meal. The chocolate and hazelnut layer cake was also amazing, not to mention the dessert platter (filo pastries filled with Turkish delight and chopped pistachio nuts, a mhalbi milk pudding and basbusa - an Egyptian semolina cake).
In all, this was a night to remember for its family-style service and cooking and its absolutely amazing Israeli and Mediterranean dishes. We'll be back.
Rating out of 10
Food: 7
Service: 10
Value: 8
Ambience: 7
Our meal: $326 for four entrees, main courses and desserts plus eight glasses of wine.
Wine list: Excellently thought-out to match the tremendously varied menu.
Verdict: Israeli and Middle Eastern food served in a delightful, European family-style setting. Don't miss the homemade pita bread and the knafeh dessert - divine.