Writer, Kate De Goldi, shares her happy place with us.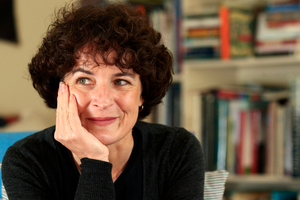 My happy place is the whole of the West Coast of the South Island, particularly the area between Arthur's Pass and Westport - which is very large - so let's say the Taramakau Valley, a river valley between Otira and Kumara.
It's part of the journey my family took every year from Christchurch to Greymouth to visit our grandparents and our other relations on my father's side. It was like going from one world to the other. And we were literally going from one side of the family to the other - my mother's family all live in Canterbury.
Over many years it became this alluring magical landscape. It's dramatic and beautiful but it also became associated with the incredible excitement of seeing the family on that side of the divide.
It's exactly the same route that the TranzAlpine train takes. In the summer, you begin by travelling through shaved, brown, soft and dry Canterbury and then you go over Porters Pass and Arthur's Pass and through Otira Gorge, which was quite a perilous passage in our day.
You go through an increasingly grand, raw landscape, then you're in Westland, in the Taramakau Valley, which is lush and green and fecund. I've always thought it was more primitive and exotic. The contrast between the two places is so profound.
Part of the allure for us was that we had two lots of cousins who lived on farmland along the valley and we would stop there along the way. Over the years we had many holidays there. I came to know it as a place that I completely associate with family.
And also it became an imaginative landscape for me, a place of magic and slight mystery and otherness. It was something outside of my normal yearly round.
There was such freedom there, to play in the landscape in a way you didn't in the city. That's where we learned to drive from our cousins, in a hysterically unsupervised way. We went possum trapping, I learned how to swear. It was a great place.
It's so much harder for me to get there now, which is sad. There were about three years that I didn't go at all, after I first moved to Wellington. I went back on a school tour and I was so overwhelmed that I spent half the time blubbing. It was so wonderful. I feel a deep familiarity and peace when I'm there.
* Kate De Goldi is the guest speaker at Taupo's Great Lake Tales at the Hilton Lake Taupo Hotel today, 3pm to 5pm. The series features a different author every Sunday until September 9, including Steve Gurney, Raybon Kan, Cameron Petley, Graham Beattie and Living's books editor, Nicky Pellegrino. Tickets $39.