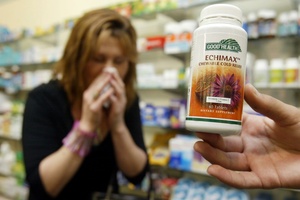 Honey, lemon and ginger are flying off the shelves as people try to combat flu and colds this winter.
In June, sales of honey were up 18 per cent compared with the same period last year, Countdown supermarket figures show.
Ginger sales went up 26 per cent compared with last year and sales of lemons leaped 32 per cent.
Countdown's health merchandise manager, Fiona Pointon, said it appeared more Kiwis were brewing up traditional remedies to get through winter illnesses.
She said there was often a small rise in sales of natural cold and flu remedies during winter, but this year's increase was higher than expected.
"This year, it seems people are increasingly turning to the tried-and-true remedies," Ms Pointon said.
Countdown's figures show that more of other cold and flu staples have been sold than in June last year.
Hand sanitiser sales rose by 27 per cent, cough medicines by 9 per cent, vitamin C supplements by 9 per cent and tissues by 7 per cent.
An influenza report by the Institute of Environmental Science and Research (ESR) released on Friday said illnesses were within range of a typical flu season.
And people have been admitted to hospital after contracting the predominant A(H3N2) flu strain, which can cause hallucinations and crippling nausea.
The recent death of a healthy 49-year-old Wellington woman who contracted the A(H3N2) flu strain led to a surge in people seeking flu shots in the region.
Dr Sue Huang, a virologist at ESR and director of New Zealand's National Influenza Centre, said the influenza vaccine was highly recommended.
"I would not call the A(H3N2) virus a new strain yet, since although some minor genetic changes might have occurred, it is still quite similar to the vaccine strain (A/Perth/16/2009) antigenically.
"This means that the vaccine would still offer significant protection," Dr Huang said. "Influenza vaccine is the most effective means of preventing influenza-related illness."
FIGHTING BACK
Countdown June sales compared to last year:
* 18 per cent increase in honey
* 26 per cent increase in ginger
* 32 per cent increase in lemons
* 27 per cent increase in hand sanitiser
* 9 per cent increase in cough medicines
* 9 per cent increase in vitamin C supplements
* 7 per cent increase in tissue sales.