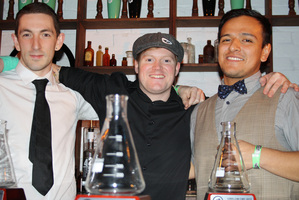 A cocktail inspired by Sir Edmund Hillary has earned an Auckland mixologist a spot in the New Zealand team to compete at the Cocktail World Cup 2012.
Barney Toy's drink - called Reaching New Heights - was inspired by the achievements of the late Kiwi adventurer.
"I kind of want to cry a little," said Toy, part of the bar staff at Auckland's Suite Bar.
"When I finished my drink I said this was my Everest and it truly was, all I've wanted to do was make Team NZ."
Guy Jacobson, from the Hippopotamus Bar in Wellington, took to the stage in a polka dot dress to present his concoction, The Big Bad Wolf.
"I know how hard we all worked for this, the sacrifices we made, the hours we spent practicing our drinks, this is verification and reward for all of that," Jacobson said.
Jacobson's mate Giancarlo Jesus - from Wellington's Hawthorn Lounge - completes the trio, winning over the judges with his cocktail called The Doctor's Swedish Remedy.
The gents were picked from eight finalists, chosen during a series of regional competitions across the country earlier this month. They had seven minutes to impress the judges at last night's event at The Front Room in Wellington.

"The standard was very high with a diverse array of drinks and skills which made it incredibly hard to judge," judge Jason Clark said.
"It is all about balance, their drink, the on stage persona and we also wanted to get the combination right in the team."
The eclectic trio of mixology masters hope to secure New Zealand's first victory at the 42BELOW Cocktail World Cup, now in its eighth year. The team has just over a month to bond and devise and perfect their signature drink.
Here are the winning recipes:
Barney Toy - Reaching New Heights
30 ml 42BELOW Manuka Honey
15 ml 42BELOW Pure
30 ml barrel aged Falernum
20 ml Lillet Blanc
2 dashes angostura bitters
10 ml lime juice
1cm slice of pineapple muddled
Muddle pineapple in a Boston add all ingredients and shake hard. Fine strain into a soda syphon charge with Co2 and pour in to iced snifters garnish and serve.
Guy Jacobson - The Big Bad Wolf
30 ml 42BELOW Manuka Honey
10 ml 42BELOW Pure
35 ml VSOP Calvados
15 ml ginger extract
7 ml simple syrup
75 ml fresh lapsang shouchong tea
Combine all ingredients in a teapot and serve in tea cups garnished with a twist of lemon, and a toothpick with an apple fan dehydrated kiwi fruit and blackberry. Shortbread dipped in chocolate biscuits on the side. Served hot.
Giancarlo Jesus - The Doctors Swedish Remedy
30 ml 42BELOW Manuka Honey
5 ml 42BELOW Pure
5 ml Swedish Punsch
2 drops homemade pine bitters
5 drops whisky barrel aged bitters
20 ml barrel aged Vermouth
Stir, strained with a lemon peel squeezed over the top and discarded.
* The 42BELOW Cocktail World Cup kicks off in Queenstown on September 3 before moving north to Auckland for a grand final event on September 7.
- HERALD ONLINE