Ursula Robb, dancer with the New Zealand Dance Company.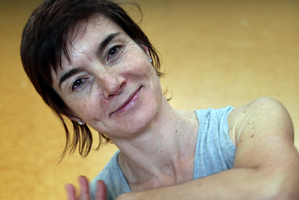 My happy place is the arrivals hall at Auckland International Airport, specifically the Maori carved gateway with the birdsong playing constantly. I lived in Brussels for about 12 years, and would only get back to New Zealand once every couple of years, so those brief trips home were highly anticipated events.
As a child, like many young kids, I liked the idea of dancing. But, as we lived way out in the country, getting to dance classes meant an hour in the car each way once a week. My mother made it quite clear that she wasn't going to waste her time unless we were prepared to practise and do well at it, so from an early age I worked really hard, practised in the woolshed and took it very seriously.
My first overseas trip was in 1991 with the Douglas Wright Dance Company. We performed at the London Dance Umbrella festival, and in a few other venues, too. It was so exciting. I would have been about 22 years old. The dance part of the trip was probably two or three weeks maximum, but I stayed on afterwards and toured around Europe by myself, so the whole trip was a couple of months.
I was very happy to come home. My first time in Europe, although inspiring and thrilling, was also overwhelming: expensive, unfamiliar, masses of people, negotiating in different languages ...
Even now, although I'm based in NZ, I spend time each year in Europe, so after disembarking and walking through the duty-free areas, the Maori gateway and birdsong signifies the moment of arriving home. That, and the (usually) friendly immigration officers when they say "Welcome home" after stamping my passport, makes me smile every time. It makes me feel like a Kiwi again. The last time I flew into NZ was last September when my family and I returned from nine months in Europe, so that was pretty special. I had moved back briefly in 2005, but then met my husband, who - ridiculously - comes from Ireland, which meant moving back to Europe again. He kindly agreed to settle in NZ for a while when we had our daughter, so we have been based here since 2007.
The next time we leave NZ we won't have return tickets as my husband is ready to take me and the kids back to his happy place in Ireland.
* Ursula Robb performs in the The New Zealand Dance Company's inaugural production, The Language of Living, a programme of five contemporary works, at Auckland's ASB Theatre on August 10 and 11.