Herald on Sunday Rating: 4.5/5
Address: 37 Drake St, Freeman's Bay
Ph: (09) 929 2790
Website: libertine.co.nz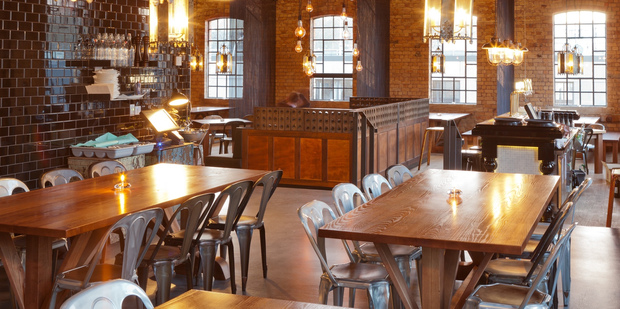 It's probably none of my business, but I don't think that Libertine is a very good name for a restaurant. The word once meant someone freed from slavery and later a "freethinker" (people of a doctrinaire religious persuasion didn't take kindly to others thinking for themselves).
Generally speaking, though, it's applied to someone who indulges in the pleasures of the flesh without any regard for moral standards.
(The PR folk for this place are on record as describing Oscar Wilde as "a notable libertine", which is an outrageous slight on a man of exquisite refinement and incomparable moral integrity, but I'll let it pass).
Now I don't know about you, but when I'm considering patronising an establishment I don't want to be told that I'm immoral for doing so. Even if they changed it to something less provocative - "hedonist", perhaps, or "sybarite" - it would still be in poor taste. In an age when senior civil servants in Greece are eating out of rubbish bins, dissolute self-indulgence is a slightly dodgy PR line to be pushing, if you ask me. In any case, the place really doesn't seem that sinful.
It's too clean and quite bright in a low-lit sort of way.
There is an absinthe cocktail on the drinks menu, but frankly I think Oscar would have found it a bit tame.
Next door to La Zeppa and backing on to Victoria Park Market, which is undergoing a long overdue redevelopment, Libertine occupies the old Destructor building of the one-time Municipal Waste Depot.
In this room a big tipping platform once emptied the rubbish into furnaces, back in the days when there was nothing you couldn't burn.
But they've given it a hell of a good polish-up. If you've seen the Imperial Lane development - Everybody's and Roxy between the bottom of Queen St and Fort Lane - which is the work of the same crowd, you'll have an idea of how good.
The hanging lights are huge bulbs with zig-zag glowing filaments like McCahon's and they make the brick walls glow cheerfully.
The five of us slid comfortably into one of the black-leather booths and peeked at the cocktail list -whiffs of the American South (mint juleps) and the Caribbean (daiquiris)- before getting to grips with the menu.
It, too, takes a broad view of the Americas - there's ceviche and empanadas from a long way south, but jambalaya - the flavour that spikes those risotto croquettes the Italians call arancini or "little oranges" - sings of the bayou.
In the first section of the menu, little plates to share, you'll find jerk chicken and blackened corn, too. The soft-shell crab comes in delicious eat-whole packages, so there's no farting around with shells and pincers and spitting out guts and ending up with a teaspoonful of meat to share five ways.
The accompaniments are smart too: the arancini get a bouillabaisse dipping sauce (slightly tangy, more New Orleans than Marseille) and there are curried goat croquettes (wherever people go, Indian food follows) with a mango chutney.
The snapper ceviche was not a success: the pieces of fish were too big and the other ingredients set aside in a semi-deconstructed approach (deconstructed ceviche is about as much use as deconstructed pinot noir, it seems to me).
But plates of sweet small capsicum and chilli, all char-grilled, were so good we had to order seconds.
By this time I wasn't exactly feeling libertinous, but I fancied something else and was somewhat disappointed to hear my companions pronounce themselves replete.
"But we've only got started," I wailed, gazing longingly at a mains menu that included kumara and sweetcorn paella, chargrilled pork belly and fish in tempura with a corn tartare.
At last, I prevailed upon them to share the night's rotisserie offering. There's a different one each night, including suckling pig on Tuesday and goat on Thursday, and ours was boned leg of lamb, moist and deliciously pink despite presumably having to be kept warm for some time.
It was quite superb, served on creamy olive gnocchi - the meat-on-pasta habit, popular with chefs this winter, works for me - and would alone have been enough reason to get out of the house on the vicious night we had chosen.
I presume that when word gets around about this place it will be bloody unbearable. If you take my advice, you'll get in quick and beat the crowds.
Verdict
Another slick addition to a good dining district in Freemans Bay.