Behind every person on a podium - or crying in the corner - is a team of supporters back home. Danielle Wright visits the grassroots clubs behind our Olympic hopefuls.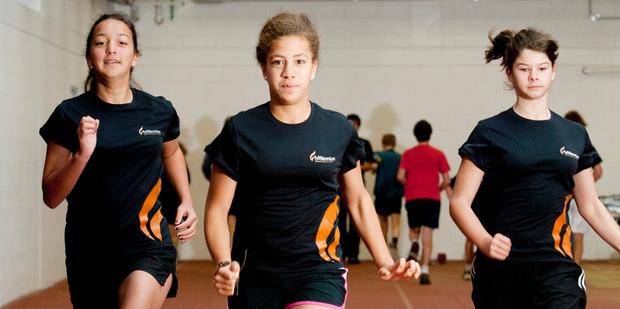 As a child, I spent many Olympic Games watching the Russian gymnasts with their near-perfect scores, but the grace and strength of the athletes, who made the most difficult routine look easy and fun, hid the incredible hard work and determination involved - and not just by the person in the spotlight.
Inevitably, there will also be a parent or grandparent, friend or coach, who has sacrificed weekends, paid for and travelled to competitions; been on hand to smile when something new was mastered and to console when it wasn't.
Here are some of the clubs that help our young athletes towards sporting success:
ROWING
The Auckland Rowing Club, Ian Shaw Park, Panama Rd, Otahuhu.
Every morning from the base at Ian Shaw Park in Mt Wellington, rowers from the Auckland Rowing Club train, come rain or shine. I visit them in three-degree weather as they hop into their boats wearing singlet tops and shorts.
Club Captain Monty Wawatai has watched a few rowers from the club head off for the Olympics and says: "It doesn't seem to get any less exciting. We will put up a digital screen, have a roast and make an evening of it."
Out on the water, he teases the crews as they head past the markers - he knows them all by name, even one man with a mirror on his hat to save him turning his head to look back: "He rowed in Zimbabwe with a pistol in his pocket in case he saw a hippopotamus," says Wawatai.
With no children of his own, the club is Wawatai's surrogate family, yet he's still fiercely competitive: "We're all the same, rowers are incredibly driven. We don't get the chance to physically hit anything in rowing so the way we deal with frustration is to train harder."
And who's the rowing team to beat this Olympic Games? "Us, of course," says Wawatai, proud of the achievements New Zealand has had and hopeful for this year's contenders.
CYCLING
Counties Manukau Cycling, various venues. BikeNZ is the national umbrella not-for-profit cycling organisation.
"There aren't many kids in Auckland streets just out playing on their bikes, but in rural areas they still do that. It's reflected in the high-performance teams with many from rural small town New Zealand," says BikeNZ development manager Amy Taylor, who is hoping a cycling version of the walking bus will come to fruition.
A free programme for schools has been developed where children receive a cycling passport and certificate. BikeNZ has also developed nine programmes for grassroots clubs to use - from how to mountain bike to basic safety skills.
"We're working to get kids from the playground to the podium," says Taylor. "Learning techniques and how to ride safely is really important to create champions later on."
The Counties Manukau Cycling Club, the country's largest road and track cycling club, has to contend with residents as well as tough training drills. Club secretary Karen McIntosh says motorists, traffic and residents pushed the club out of riding in some areas.
"It's a chicken and egg scenario," says Taylor. "The more people who ride, the more visible they are on the roads. The more skilful they are, the safer they are on the road. It all starts from the Learn to Ride level."
Taylor has high hopes for New Zealand in the Olympic cycling events this year. "Last Olympics we won a few medals and our goal this year is to take home four."
BOXING
City Boxing, 106-108 Quay St, Auckland.
In 1904, at the third Olympic Games held in St Louis, there were 651 athletes, with just six women, including women boxers with buns in their hair and long gowns. This year is first time since then that female boxing has been part of the Olympic Games.
Making history for New Zealand are Alexis Pritchard and Sonia Fernandes, who was a classical Indian dancer for 17 years. I meet Pritchard and her coach Cameron Todd, at the top of a grimy, never-ending staircase at City Boxing in Britomart.
"I started boxing nine years ago because I wanted to start feeling good about myself," says Pritchard, who now trains six days a week, sometimes twice a day.
Tonight at the club, the boxing class has more females than males and I'm told once you're in the ring the fight is 90 per cent mental. Looking in Pritchard's eyes, the determination is evident, yet she admits to still trying to find her "inner animal".
We're sitting on the side of the ring, with walls covered in flags signed by the team and competitors at away-bouts in Wales, Barbados, Denmark, Taiwan and Serbia. Soon, a new British flag will grace these walls, possibly even a medal.
ATHLETICS
Bays Cougars, Millennium Institute of Sport & Health, Sovereign Stadium, 17 Antares Place, Mairangi Bay.
North Shore's Bay Cougars opened more than 50 years ago. Now it's alongside the Millennium Institute of Sport and Health with an indoor sports hall - the only one of its kind in New Zealand - with a pole-vaulting dome as well as strength and conditioning equipment.
Dave Norris, Director of Northsport Academy, which provides the coaching at the club, says he looks for a sportsperson with the whole package of physical performance, independence and ambition, as well as competitive temperament and determination.
"There's also an important role for athletics to play in supporting other sports - we had a Surf Life Saving sportsperson using athletics to improve his beach sprints, and gymnasts who have grown out of the sport often do well at pole vaulting," says Norris.
The club has four members competing in the Olympics this year and Norris says there will be a few evenings in the pub cheering them on the big screen.
SAILING
Murray's Bay Sailing Club, 513 Beach Rd, Murray's Bay, Auckland.
The Murray's Bay Sailing Club rooms have barely changed in 50 years: "There's no point doing it up when there's wet, sandy kids running through it," says rear commodore, Julian Beavis, as we chat next to a cupboard crammed with trophies and walls filled with framed photos of some of our most acclaimed sailors, once youngsters at the club.
Kids sail a couple of night's a week, as well as on a Sunday, and it's a great way for them to make friends outside their school. There's also the OKI 24-hour race on Lake Pupuke, which is the club's main fundraiser with members racing through the night, sometimes against big-name sailors who still compete out of nostalgia.
"The key is getting kids in to learn to sail around 10 years of age, and to get the parents involved too, whether it be cleaning the boats or just having a drink in the bar afterwards - through summer the club is a big part of our life," says Beavis.
"The ones who go on really love sailing and practise the most - all through the winter in the cold and wet," says Beavis. "It helps if they make friends here too; if not they'll find something else to do. The longer you're at the club, the better it gets."
JOINING THE CLUB
Mike Dawson - Kayak Slalom
What was the name of the first sporting club you joined?
Tauranga Boys' College got me into kayaking. They have a great sports programme and I was a member of the canoe kayak team since third form. This is pretty much where I started the journey towards the international teams and trips overseas.
Have you belonged to any new clubs since?
No. Maybe the national federation.
Were there any inspirational mentors or coaches at your club/clubs who really helped you?
I'm currently working with Robin Bell, an Australian. He paddled in the Sydney, Athens and Beijing Olympics, finishing with a bronze medal. He's been a good go-to guy to get my kayaking to the next level. Being a small sport, I've had a lot of support in my younger years from the older paddlers in NZ and the older kids at college when I was a school kid.
Brent Newdick - Decathlon
What was the name of the first sporting club you joined?
Papamoa Sports Club, this was my local club for athletics and rugby.
Have you belonged to any new clubs since?
Yes, I then moved to the senior club in Tauranga called the Tauranga Ramblers, a great club, until I finished school and moved to Auckland, where I started at Counties then went to my current club, North Shore Bays.
Were there inspirational mentors or coaches at your club/clubs who really helped you out?
Yes, my first two coaches were both decathletes - Doug Pirini and Brent Booker. They have a world of decathlon knowledge ... also 1966 Empire games champion Roy Williams has been great to share experiences with.
Lauren Boyle - Swimming
What was the name of the first sporting club you joined?
My first swimming club (and sports club) was West Auckland Aquatics operating out of the "Big Top" swimming pool in Henderson, now known as the West Wave.
Have you belonged to any new clubs since?
Yes, now I belong to North Shore Swimming, based in Mairangi Bay on the North Shore.
Were there any inspirational mentors or coaches at your club/clubs that really helped you?
When I was young I had a great swim teacher, Tom Johnson. He inspired me to join a swim club and become a competitive swimmer. I was lucky to be exposed to great coaches over my years, including Donna Bouzaid, Duncan Laing and now Mark Regan.
* Mike, Lauren and Brent are JR Duty Free Young Olympians.