No matter the occasion or the day of the week, there's always somewhere in town to make it a memorable moment.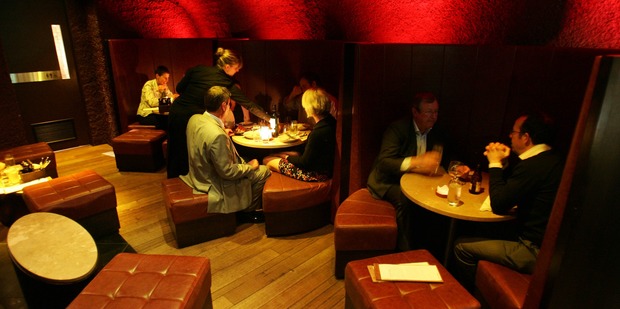 MONDAY
It's the start of the week and the perfect time to catch up with a close friend or work colleague in intimate surroundings for good conversation and good wine.
Head for: The chic and stylish House Bar at Hotel DeBrett on O'Connell St. With its cool blue vibe, sit at the bar and have the bartender talk you through the top shelf and help you lubricate conversation. For something laid-back, High St's Rakinos is warm and mellow. It's a bar that prides itself on being unpretentious and friendly. There's a well-thought-out wine list and generous servings of good food until 9pm. Join the fun at the Monday pub quiz at the Bluestone Room on Durham Lane. This Monteith's bar is another establishment renowned for its hearty bar food.
TUESDAY
Heading out to the movies or the theatre? Make the most of the night and meet friends for a pre-show drink and tapas.
Head for: Bellota on Federal St. This stylish bar was designed by leading architect Andrew Lister and is run by illustrious chef Peter Gordon. Grab a booth and a good rioja, and you'll feel like you've been transported to Spain. At the Mezze Bar on Durham Lane, there is always a positive vibe as people gather for dinner or a tasty antipasto platter (have to love those meatballs). Rub shoulders with the city's actors and theatre lovers, enjoy a glass of wine or two and soak up the pre-show frisson at Q Theatre's Lounge on Queen St.
WEDNESDAY
Woo hoo, it's mid-week. Time to get together with a group of friends, catch up on news and plan the upcoming weekend.
Head for: The top floor and balcony at Snapdragon at the Viaduct. Overlooking the yachts, this place is relaxed and friendly. Downstairs you can book a table for dinner. Mix it up with pizzas and jugs of planters punch or winter mulled wine at the Britomart Country Club. Nestle back into comfy couches and the vintage vibe of the Library Bar on Pakenham St East at the Viaduct, and nibble on the scrummy pumpkin and feta balls or treat yourself to a mid-week cocktail or two.
THURSDAY
The unofficial start of the weekend (just one day to suffer at work if it turns into a biggie). We're thinking big bars where there's plenty of space for your group to grow as you make new friends.
Head for: Tyler Street Garage at Britomart. Grab a seat upstairs on the roofbar or tuck into their pulled pork sliders and the classic Tyler Street hot dog. Across the square is Mexico, great for shots of tequila - they have 20 varieties - and tasty quesadillas to munch on. This place hums with a young crowd. The garden bar at Sale Street in Freemans Bay attracts a more mature crowd at this time of the week, with the garden bar being the most popular spot. Likewise near-neighbour, the sprawling La Zeppa at Victoria Park allows for plenty of people-watching as you tuck into hearty tapas.
FRIDAY
Friday night and is it after-work drinks - that roll into the night - or home to freshen up first before hitting the town? Either way, the bars and clubs of the inner-city come alive.
Head for: Red Hummingbird on Federal St. This place pumps after work, thanks to its relaxed vibe. As does the Northern Steamship on Quay St with its funky upside-down lamps and hearty bar food. At the nearby Brew on Quay nab one of the "cells" for your own private party. Fort St Union is another pub that appeals to those who like a few beers after work and they have a new woodfired pizza oven worth putting to the test. For something a little more elegant Everybody's at Imperial Lane is light and airy and attracts the stylish set. You can get so comfortable here you will want to stay for dinner.
SATURDAY
Saturday night and the inner city is the place to head to dine and dance the night away. Bars and clubs are tucked away down laneways and underground. There's something for everyone.
Head for: Agents and Merchants down at Britomart is a great place to grab a bite to eat before heading next door to Racket Bar, where there is a regular roll-call of DJs. Between the two, the courtyard alleyway with its fireplace is a popular spot to grab a table. Cassette Nine, upstairs on Vulcan Lane has DJs with tunes that can range from dubstep to house and techno. 1885 Britomart is a bar/club with a range of zones, and DJs.
As the night rolls on, you might want to downsize at Tabac on Mills Lane. This discreet bar is intimate and oozes a sophisticated vibe. Play your cards right and you'll find a live band performing. For the wee, small hours, tiny Mo's Bar on the corner of Wolfe and Federal Sts is the place to chat to the bartender - or the stranger on the bar stool next to you. Have them mix you a cocktail or two.
SUNDAY
It's time to kick back and enjoy the afternoon sunshine.
Head for: Wynyard Quarter and check out the host of restaurants and bars at North Wharf. Grab an outside table at Jack Tar and people-watch.
At the nearby Fish Markets, expand your wine knowledge at Big Picture Wine - a "multi-media and multi-sensory adventure" where you can taste and learn about New Zealand wine. For elegance, Soul Bar & Bistro at the Viaduct is the perfect place for indulging in some clean crisp, local white wines and a seafood lunch.