Pitting our wines against those across the Ditch.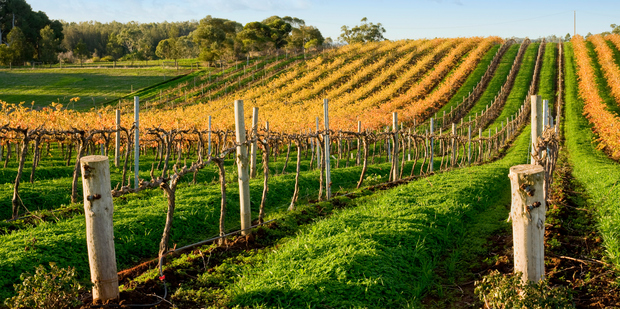 There's nothing like a bit of friendly transtasman rivalry to keep us on our toes. We may beat our Aussie cousins at rugby, and they have the upper hand (or should that be under-arm?) in cricket, but how do we compare when it comes to our wines?
OLD VINES
"An amazing balance of sugar and acid; more texture and structure on the palate, layers of of flavour, great length and mature tannins," is what you get from a old vine, according to a custodian of some ancients stock, Stephen Henschke of the Barossa Valley's Henschke.
It was the European vines bought over by pioneering viticulturalist, James Busby in the first half of the 19th century that established many of the early vineyards in New Zealand and Australia. However, choices and conditions on either side of the Tasman left a very different imprint on our wine industries.
New Zealand has historic wineries such as Mission Estate, founded in the 1850s, and the vineyards of Te Mata, which have been in continuous production since the 1890s.
However, most of our vines have been planted in the past couple of decades.
The oldest I could track down, were the White Palomino, White Muscat and Red Hamberg, planted by Mazurans in Henderson in 1938.
In contrast, Australia actually boasts some of the oldest vines in the world. It escaped the phylloxera plague of the late 1800s, which destroyed the vines of that era across Europe and today, the Barossa in particular remains a viticultural treasure trove of gnarly old vines.
Dating back to as early as the mid-1800s, these are now being promoted though the region's "Old Vine Charter", a multi-tiered system starting with the "Old Vine" classification for those who've notched up more than 35 years to the oldest "Ancestor Vine" category for those of 125 years or older.
For a vine to survive into old age it needs to be planted in the right place and be of a variety with lasting appeal.
This is where New Zealand had a slower start, with many of its early plantings in the humid climes of the upper North Island and its grapes initially less-than-exciting varieties.
"On the right sites old vines produce fruit with balance and a real sense of place, showing the character of the vineyard even in extreme years," says Nick James-Martin of d'Arenberg in Australia's McLaren Vale. "We seem to have ancestors who planted the right vines in the right spots." Game One to Australia.
Peter Lehmann VSV 1885 Barossa Shiraz 2009, Australia $48
Made from vines that are more than 120 years old and catgeorised as ancestor vines', this shiraz exhibits the immense concentration in its satin-like black fruit that characterises many old vine wines, along with a balancing freshness and frangrant notes of licorice, leather upholstery and exotic spice. (From fine wine retailers.)
Score: Australia 1/New Zealand 0
VARIETAL DIVERSITY
Having a dominant flagship variety, as we do in New Zealand with sauvignon blanc, can be a strength, and in international markets New Zealand and sauvignon blanc have almost become synonymous. Conversely, with more than 80 per cent of our exports from just one grape, it's also increasingly regarded as a weakness, especially in vintages when we've produced more than we can sell at sustainable prices.
Across the Ditch, though Australia became known for its most widely planted grape, shiraz, and most popular white, chardonnay, the country has always boasted a wide range of grapes beyond its big two: from pinot noir to grenache and semillon to riesling.
After surpluses impacted on mainstream Australian chardonnay, growers have been forced to diversify further, which has helped drive a recent proliferation of promising new grapes in its vineyards, from Spanish staples like tempranillo to tricky Italians, such as nebbiolo.
Our cooler climate means there are less grapes we can ripen here in New Zealand. However, we've been rather sluggish when it comes to experimenting with different varieties as the success of our sauvignon blanc has given growers little incentive to try new things. It's only in recent years that we've started to see diversity creeping back into our varietal mix, with new contenders such as gruner veltliner and tempranillo recent vines to take root. Australia is still some way ahead of us here.
Thorn-Clarke "Morello" Barossa Valley Nebbiolo, Australia $24.99
Australia is starting to make some seriously good versions of this variety that rarely excels outside Italy. This affordable and eminently drinkable expression exhibits nebbiolo's classic notes of tar and toasty spice, along with fresh dark berry fruit and evident but not excessive tannins. (From selected fine wine retailers.)
Score: Australia 2/New Zealand 0
SYRAH/SHIRAZ
A variety so good they named it twice - well, at least the Aussies called it shiraz, while almost everywhere else from NZ to its heartland of France's Rhone Valley, it's known as syrah. It's a grape that's gained international popularity through its soft plush fruit and fragrant profile, flourishing in climates both warm and cool.
As suggested by the age of some of its shiraz vines, Australia has a long track record with variety, and a focus that's meant for years it's been the country's most widely planted grape. After being made as a fortified until the mid-1900s, it emerged as a table wine whose opulently fruited examples, often liberally laced with American oak, pleased palates both at home and abroad.
However, more recent time saw its blockbusting styles come under attack by those preferring wines with a tad more restraint.
... like a cool climate New Zealand syrah perhaps? As plantings of it only took off in our vineyards in the past decade and still only account for a small percentage of our vineyard area, we're novices compared to our Australian cousins. But boy have we caught up fast, with our fresh and intensely aromatic peppery syrahs now attracting international acclaim.
But back in Australia, there's also been something of a shiraz revolution of late. Winemaking in its warmer regions is becoming less heavy handed - resulting in less obviously oaky and more refined wines - while its cooler regions have emerged as the source of some decidedly svelte shiraz. It also remains the maker of some of the best value shiraz on the market.
Australia and New Zealand are both producing some sensational shiraz/syrah, so it has to be a draw.
Nugan Third Generation Victoria Shiraz, Australia 2011 $19.90
Illustrating the new wave of fresher and less oaky shiraz, is this good value drop from Nugan, with its juicy, silky palate of red plum infused with subtle incense-like spice and floral notes. (From Glengarry.)
George's Road "Block One" Waipara Syrah, NZ 2011 $26.50
Though it's Hawkes Bay and Waiheke that have excelled so far with syrah on our shores, great examples are popping up from some surprising places, such as this promising expression from Waipara. It's an elegant lighter style with intense aromatics of black pepper and spice over juicy black cherry and plum fruit. (From Fine Wine Delivery Company or order online.)
Score: Australia 3/New Zealand 1
CLIMATE
What Mother Nature provides as a growing environment is supremely important in wine. In the first place it dictates whether wine grapes can thrive in a specific location: which can't be too chilly, sweltering or rain-soaked for these sensitive plants. It then shapes the style of the final wine.
Although Australia's cooler regions have been growing in importance in recent years, the country is largely considered a warmer wine growing nation. With many of its regions warm and dry, ripening grapes is rarely an issue and can allow for greater control of vines through techniques such as measured irrigation, rather than being at the mercy of deluges that can make vintages a wash-out in other countries.
However, there's been an increasing swing in international tastes of late to naturally fresher and lighter alcohol styles characteristic of cooler climes like New Zealand's. Here our style might be in keeping with the zeitgeist, but we tread a fine line between making fantastic wines and failing to ripen some varieties, existing at the margins of viable viticulture in some regions. However, it's on this climatic knife edge that some of the most enthralling wines are made.
At the end of the day there's room for Australia's riper full-bodied fare and our edgier examples. What's the decider here, is the fact that the large land mass of Australia is being affected far more severely by climate change than New Zealand.
"The cropping calendar will change," notes Leanne Webb, an Australian climate change scientist who's been using climate change projections to assess their impact on the wine industry. "With earlier harvest in a warmer climate, the temperature of the ripening period in some regions will become too warm to produce balanced wines from some or maybe all grape varieties growing there now."
A lucky win for New Zealand this instance.
Pencarrow Martinborough Pinot Noir 2011 $19.99-$24
Some varieties such as pinot noir can only produce decent examples in the coolest of winegrowing climates. Martinborough was our first region to discover it had what it takes in the pinot stakes and this second label from Palliser, with its tangy berry fruit, savoury gamey undertones and hint of spice and smoke, shows it in its affordable splendour (From Glengarry.)
Score: Australia 3/New Zealand 2
SAUVIGNON BLANC
Sauvignon blanc remains our trump card. From the 80s New Zealand established itself as the producer of a distinctively zesty, pungently herbaceous and passionfruit-packed sauvignon blanc like no other. It's a style that's now regarded as an international benchmark and has seen it embraced across the world, including Australia where a Kiwi sauvignon is its best-selling bottled wine.
As our sauvignon has taken Australia by storm, it's been eroding the market share of Australia's scrumptious and singular semillons. It's a shame, as semillon from the Hunter rates as one of the world's great wines styles .
It's not that Australia doesn't make sauvignon blanc - in fact it has more than 7000 hectares in the ground, which is more than New Zealand's area of pinot noir, our second most widely planted grape. It is also capable of producing sauvignons that are decidedly sexy when grown in cooler spots, such as the Adelaide Hills and Tasmania, as well as in a blend with semillon from Margaret River.
However, most regions of Australia are a simply too warm to do the variety justice. New Zealand is the obvious victor here.
Astrolabe Awatere Valley Sauvignon Blanc 2011 $26.99
One of NZ's star sauvignon blancs, hailing from the Marlborough subregion of the Awatere. It's a particularly intense example, exhibiting the Awatere's punchy green herb character, redolent of oregano in this case, and backed by zesty lime and an elegant mineral undertone. (From Caro's.)
Final score: Australia 3/New Zealand 3
So it's a draw. No, it's not a cop-out but testament to the fact that though New Zealand and Australia both have their strengths and weaknesses, at the end of the day they are producing some of the most exciting wines in the world today.