Wendy Cunningham tells Elisabeth Easther why living in Army Bay is the best of both worlds.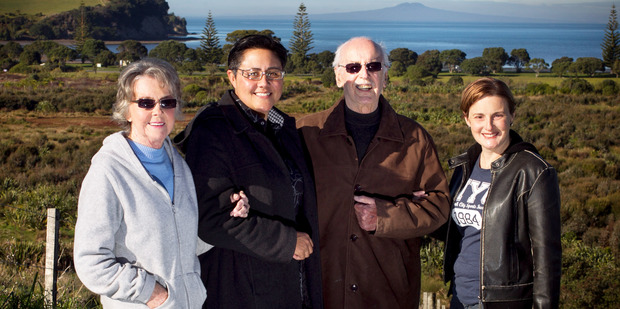 We've been in Army Bay for about six or seven months, we moved in November last year. We were living in Auckland, but looking at houses all over the place. We came across one that looked interesting in Red Beach. We'd never heard of Red Beach and, although the house wasn't for us, the agent showed us around the Whangaparaoa area, and here we are.
We looked at lots of houses, but didn't see anything we fell in love with so we thought outside the square, looked into sections, and found one right near the regional park. The House Company, who are local, built the house for us, and that was a fantastic experience, everyone has to do it at least once. We also have Mel's folks living with us, they asked to come too so we added a wing for them.
We all go down to the RSA together in Stanmore Bay, it's a favourite with us. Wednesday night is club night, you can have dinner, really hearty food, sometimes there's live music. They do things on other nights, but to entice people in on a Wednesday they have a major draw where you can win a sum of money. Last time we were there it was up to $1800 but, if you're not there, you can't win.
There are nine beaches up this way, and our bay is right at the end of the peninsula. My perfect weekend would be taking a wander down to the beach with Mel and the dog, perhaps doing some cockle-gathering at Okoromai Bay. The next bay along, Te Haruhi Bay, is a beautiful beach that looks back to the city and Rangitoto while Army Bay is the surf casting and swimming beach, with great rock pools for kids to explore at low tide.
We're right next to Shakespear Regional Park, so there are loads of good walks, and protective fencing for birds. There's an automated gate that you go through, to keep predators out, and huge perimeter fences. I've heard rumours of kiwi being in there but I've not seen any. Shakespear Regional Park is a real family place, there are lots of grass areas, you can camp there as well, but you have to book ages in advance.
Gulf Harbour is the next area around from us, it's our little hub. It has the golf club, cafes and dairies. We go there for little groceries, and there's a fruit and vege shop which is handy. There's a lovely Japanese restaurant in Gulf Harbour called Daiwa, and there are some great cafes; the best is Local Cafe. Manly Village is a quaint little spot, and just five minutes' drive from Army Bay; there's a delicious Indian restaurant there called Indian Village.
There are lots of quirky things happening out here too. There's a regular market day in Stanmore Bay at the Plaza, and on Sunday there's a market at Gulf Harbour with great food stalls. There's a guy who sells German sausages, and a stall that sells coffee and pork pasties.
There's a great playground in Arkles Bay, and Stanmore Bay has a huge leisure centre with a gym. There are big parks and skating rinks there too, lots of stuff for kids to do.
Living up here, we have the best of both worlds. We go to the city whenever we want, then come away from it and have a completely relaxing time. The thing we love most about here is it's a completely different world. The people are different - not that Auckland people are bad, but here everyone's lovely. People genuinely care about you, they'll come up and say hi, and welcome you with open arms. It reminds me of my childhood days when people were more open and trusting. It's nice to be a part of that sort of community.
Wendy's picks
* The Silverdale RSA, Stanmore Bay. 43A Vipond Rd, Stanmore Bay. Ph (09) 424 9026. The RSA is a wonderful hub, providing hearty, affordable food and friendly members.
* Local Cafe, 7/49 Rawhiti Rd, Manly Village, Whangaparaoa. Ph (09) 428 2330. Said to be the best coffee on this coast, and they do great baked goods too.
* Daiwa Japanese Restaurant, 69 Gulf Harbour Drive, Whangaparaoa, Hibiscus Coast. Ph (09) 424 0595. Visit this restaurant once, people say, and you'll want to become a regular.
* Indian Village, 7/49 Rawhiti Rd, Manly. Ph (09) 428 2499. Simply delicious traditional Indian food, and a great atmosphere too.
Wendy Cunningham and partner Mel live in Army Bay with Mel's parents, Arthur and Sylvia. Wendy and Mel are competing in this year's Queen of the Whole Universe competition. Saturday, July 21, ASB Theatre, Aotea Centre, The Edge.