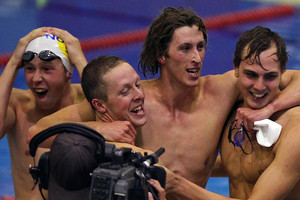 My happy place was swimming in the relay at the national champs this year. There was a lot of pressure, because for most of us it was our last shot at qualifying for the Olympics.
I hadn't had a great lead-up. I'd been living and training in Australia and I hadn't been enjoying it. I tried toughing it out, but it just got too much. My world just came crashing down.
I was lucky that the [Swimming New Zealand] high-performance team took me in. I was in dreadful shape, mentally. I thought, "I don't really have a chance. I might as well just give up."
The coach, Scott Talbot, was really good. He said: "Look, let's just forget about the Olympics, just swim for the fun of it." So I started getting my confidence back, and I started doing all right, but I still had a hard road ahead.
The national champs were only about three months after I moved to the team. The four of us guys in the relay team were all so nervous.
I was the third swimmer. Matt [Stanley] went first and we thought, "Oh yeah, that's a solid swim, a good start." Steve [Kent] went second but because I was changing over I couldn't see what time he'd done, so I didn't know if we were on track or not.
I felt good as I was swimming, but it was hard to judge. And then I finished and we were about two seconds ahead of the pace. And I thought, "Oh, this is on. This is really on."
When Andy [McMillan] started swimming I jumped out of the pool and did the last 100 metres walking alongside the pool with him, just cheering my heart out.
As soon as Andy touched, we knew we'd gone under the time we needed to have a chance to qualify. We were pretty happy but it didn't quite sink in to start with.
When I was doing a TV interview two or three minutes afterwards I started to realise what had really happened, and that's when I lost the plot completely.
I was in hysterics for the next 10 minutes. I was shell-shocked because I'd pretty much given up on the dream.
We only found out we'd qualified for the Olympics about a month ago, because only the top 16 teams qualify. If we make the final it'll be just about the story of the Olympics. But it's definitely a chance, for sure.
* Dylan Dunlop-Barrett, 21, swam the fastest time (and a personal best) in the men's 200m freestyle relay at the New Zealand Swimming Championships in March, helping to earn the team a New Zealand record and a place in the Olympics. He competes in London on July 31.