With La Cigale, Elizabeth Lind has transformed a small part of Parnell into a corner of France.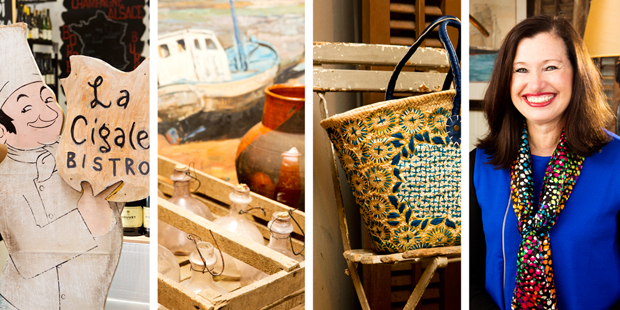 When you meet a person with that special spark, that joie de vivre, their passion for life and all its bountiful offerings, is infectious. Elizabeth Lind is such a person.
When I meet her, I'm instantly energised by her enthusiasm. She is in the throes of organising a last-minute business trip to France - only a few days away - and about to drop off to the publisher the final proofs of her first book (more on that later). Yet, despite all this, she is relaxed, taking it all in her stride.
The French have a phrase for that too - c'est la vie - and it shouldn't surprise me that the woman who can claim to have spent so much of her life dedicated to all things French should subscribe to such a philosophical approach when life gets hectic.
She is much too modest to agree with me when I suggest that, together with husband Mike Lind, she has transformed a small part of Parnell to truly reflect a slice of daily life in France.
Their business operation, La Cigale, includes a casual bistro that buzzes with life three nights of every week, a delicatessen with shelves overflowing with tempting French food and wine, a clothing shop selling unique French fashion, a warehouse full of antiques and unique home and lifestyle items sourced from the south of France, the kitchen shop and an incredible bustling weekend farmer's market.
It may be multi-faceted but there's a strong French flavour that runs through all aspects of the business and I wonder how a New Zealand couple have so successfully captured the essence of the French way of life.
"All we ever wanted was to create a simple, friendly, lovely, unintimidating place that feels casual enough to always be welcoming. It's just a part of French life - going to markets, eating at a local bistro and just getting on with life, slowly and sociably.
"We try to deliver what we expect to find when we're travelling in France. We hope we've created a bit of that with La Cigale - to make these things more of a part of New Zealand life."
Elizabeth and her family started out working in the rag trade, travelling to and importing textiles from Europe and Asia, in the 80s. But by the 90s the industry had become 'increasingly difficult' so they decided it was time to think about a change.
"In 1997 we took a trip, a holiday of sorts, to France. At that stage we'd spent just as much time in Italy and Asia as we had in France but the allure of France always drew us back. We put together a one-page business plan where we identified what we liked doing - basically travelling, eating and cooking - and looked at the gaps in the market place.
"The fact that there were others in New Zealand who were already focused on Italian food, and doing it really well, meant that France won out. We decided it would be smart to capitalise on our experience with importing if we could so we began by sourcing antiques and some clothes and smaller items like soaps, ceramics and mustards - those things that I hadn't seen in New Zealand yet. We started with what we knew and what we liked and it grew from there really."
The food importing began with small shipments and Elizabeth admits that there was no real strategy to their decisions about what to buy.
"Our approach was really simple. We're avid eaters so we'd go to France, taste products and those that we liked we'd go directly to the supplier. It was perfect for us in that we could bring in small shipments at a time, of products that were unique to La Cigale."
The Kiwi can-do attitude shines through when Elizabeth recounts how they began the cafe.
"We were selling clothes, then I started serving coffee, then some snacks, until one day a customer asked if she could have something to eat for lunch and I realised that we had tins of terrine so I raced up the road for some salad makings, threw some cornichons on the plate and a cafe was born, you might say!"
With a long-held love for cooking and sharing food with others, it now seems like a natural progression. "Cooking brings me joy so despite never having been in hospitality industry as such, it came naturally to us."
In addition to their Parnell premises, they initially had stores in Chancery and Ponsonby, but in the end they found the true home for La Cigale was in Parnell so closed the other locations and put their energy into growing it from there.
"We're a good team Mike and I because we both keep thinking of new ideas. Even if it's risky, you have to keep moving forward don't you?" she asks as though it's the most natural thing in the world to have established, in a relatively short space of time one of Auckland's most successful farmer's markets.
"We started with a trial market in December 2003. I think we had five stallholders at that one. By February 2004 we were running the markets every Saturday and now we have around 50 stallholders and it runs on both weekend days. Sometimes it all seems surreal to me!"
Unbelievable it might seem but the pair are good 'thinkers' and when they have an idea they're able to tease it into reality. In developing the French farmers' market idea they were quite clear about what they wanted.
Elizabeth highlights the key elements that they wanted to incorporate and if you've ever wandered around a typical French market, you'll no doubt recognise some of them: the tantalising aroma of rotisserie chickens being cooked; artisan cheese makers with stalls selling a myriad cheeses; often a paella stand; fresh fish being sold from bins; vegetables of every variety. And for the Linds, it was important to capture the ethos of the French markets too.
"There's a community, it's slower, customers wait to be served instead of helping themselves to produce and there's an engagement and relationship that develops between the stall holders, who are likely to be the growers or producers of what they are selling, and the market regulars.
"It's probably what I'm most proud of with La Cigale - I get a kick out of seeing families enjoying the market, the community that the market has created."
Establishing the bistro followed on from the French market and, typical of the "La Cigale way", it happened as a natural progression of what customers wanted as opposed to any careful planning on the part of the Linds.
"2008 was really the true beginning of the bistro but it had started almost 'informally' before that. People would buy the rotisserie chickens from the market and then they began asking if they could eat them on site so I'd do a bit of salad for them to go with it.
"Before we knew it the chickens were so popular that regulars were 'booking' them and by the time the market opened we were effectively all sold out! So I'd race up and get some beef from the local butcher and cook up a beef bourguignon so we had something to sell. It grew from there."
It's a marvellous concept with tables scattered among the shelves of merchandise and guests able to buy wine direct from the shelves.
The menu is usually limited to two classic bistro dishes and you order when you book your table.
The atmosphere is convivial and Aucklanders have taken to it in droves with many telling Elizabeth that it feels like they're part of a huge dinner party and eating in someone's home, instead of a restaurant.
I ask her if it feels less frantic and more settled these days, given the bistro now regularly attracts a near full house on any of the three nights it operates and the market is one of Auckland's busiest. "No," comes the immediate response, "we're continually evolving because you can't stay in one place for long in business, and I've always got something new on the go." Which brings us to her latest project.
"I've been working on a book simply titled La Cigale and I am so proud of it. It's full of recipes for our favourite French dishes and wonderful images of our travels in France, our suppliers there and here in New Zealand. It's due out in September and we're so excited. I've tried to capture what continues to inspire us in creating La Cigale which is that nothing feeds you more than working at something that you love.
"Mike and I both work really hard but because we love it, we're able to face the tough and busy times with enthusiasm because we're doing something that we adore and believe in."
You see, that's the thing with passionate people - they are able to keep expanding their horizons and striving for the next thing because, even when they're working, they're doing what they love.