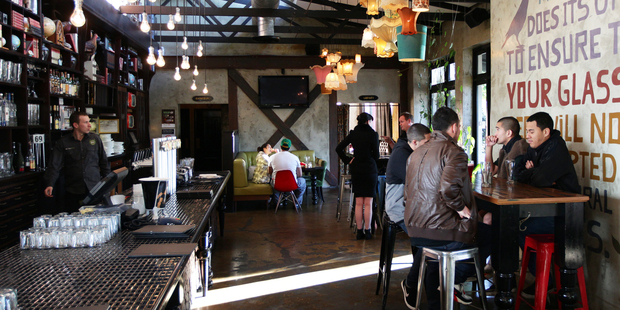 I had put off going here for a while, despite the fact that The Neighbourhood is a stone's throw from my house. This was based on a friend being overcharged for a glass of Mac's Gold during the World Cup and I decided to wait until things were a bit calmer before crossing the threshold.
It was a pleasant surprise when I did. Usually a trip to a bar involves a lot of talk and laughter, so you don't really get the chance to appreciate the surroundings. A quiet afternoon provided me with a rather lovely interlude at this bar and one I reckon most of its night-time patrons wouldn't recognise.
The 'Hood gets busy when the sun goes down, with live music and a party atmosphere. But during the day, it also has its charms, not least the library area, which offers comfy armchairs and plenty of books. The area behind the bar is also a good spot, with views of Eden Park filling the picture windows.
But down to business. It's a Mac's bar, with the full range on tap, which should give you some choice. The wine list is well chosen, with some welcome surprises among the old faithfuls. The spirit selection is fine, too and the cocktails are well thought out. The food is pretty much usual Mac's bar fare, filling and reasonably priced.
I found the service fine, although it was hardly packed when I went in. That said, it took the staff some time to tidy up the broken glass outside.
The toilets were fine too, better than most, in fact.
Oh, and the overcharging? It may well have happened, but I was charged a much more agreeable price for my beer, so I'm going to put it down to a simple mistake. I'll go back to this particular Neighbourhood.
Scores
Service: 3.5
Drink: 3.5
Food: 3
Atmosphere: 4
Overall: 3.5