Fishing The River Of Time by Tony Taylor
Text Publishing $37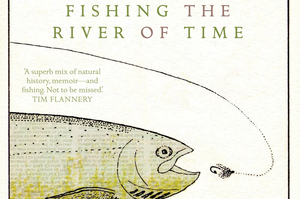 Here's a wager. This will be 2012's only debut book from an 85-year-old Sydney-based palaentologist.
Taylor flies from Australia to Canada, specifically to the Cowichon River in British Columbia, to meet his grandson for the first time, and to take him fishing. It's a fair while before 8-year-old Ned appears in the book, and you have to wait patiently till things start to happen.
In the interim, you learn about the author's earlier hunting and fishing days. And about the 15th century Abbess of Sopwell Priory and her angling techniques; the huge salmon that sell for thousands of dollars; the importance of wearing a dark-coloured hat to avoid frightening the fish.
Useful survival skills are mentioned as well: how to paddle a canoe Indian-style; why one should not throw rocks at a black bear; how to recycle wolverine stew and talk to someone two generations younger.
When he does appear, Ned is an excellent, eager little guy, and Taylor is clearly beguiled by him. The affection between them, and the things they learn from each other, are among the strengths of the story.
It might have been better if the book had stuck to Ned and nature. We also are told rather a lot that fish, fishing, forests and maple syrup were all better when the author was a lad and that nowadays we have too many "gizmos and gadgets", the wilderness is being defiled by ugly suburbs with ugly names, and it's only a matter of time until all outdoor activities are replaced by video games. Taylor's editors really should have taken him by the arm.
There are some nice stylistic touches. Fishing involves "pulling the beautiful out of the invisible". The chief purpose of the old is "to tell stories and to keep them as close to the truth as possible".
The messages that "living simply leads to understanding"; that "answers ... are best looked for in remote places" are sensible and straightforward, though come via some unfortunate metaphors, and some pronouncements that are didactic rather than deep.
Fishing is a small, gentle read. A book of connections - with people, places, memories. Good enough to attract readers other than anglers and grandparents.
David Hill is a Taranaki writer.