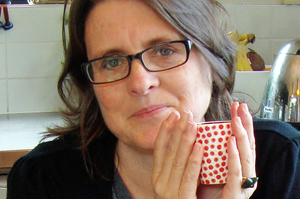 Poet Paula Green is the editor of Dear Heart 150 New Zealand Love Poems (Random House).
The book I love most is ... Put Ottolenghi - The Cookbook in one hand and Ian Wedde's The Commonplace Odes in the other and I'm happy. But aside from my love of poetry and cookbooks, I adored Cloud Atlas by David Mitchell (deliciously complicated) and Kyle Mewburn's Hill & Hole (deliciously simple).
A great book I've read recently is ... Emily Perkin's The Forrests, with whiffs of Katherine Mansfield and Virginia Woolf.
The book I want to read next is ... Kim Scott's That Deadman Dance as he left me spellbound at Wellington Writers and Readers Week.
My favourite bookshop is ... The Women's Bookshop and Unity Books where the staff are passionate about what they read.
Plus Quilters Bookshop in Wellington and Jason's Books in Auckland as they have great shelves of secondhand New Zealand poetry.
The book that changed me is ... Arthur Ransome's Swallows And Amazons showed me I could take risks and have courage. And Italo Calvino's If On A Winter's Night A Traveller set me on the glorious path of university learning.
The book I wish I'd never read is ... I have a weak stomach for perversion and the flabby, self- indulgence of Hilary Thayer Hamann's Anthropology of an American Girl gave me indigestion.