Bethany Cantwell, Auckland Zoo volunteer.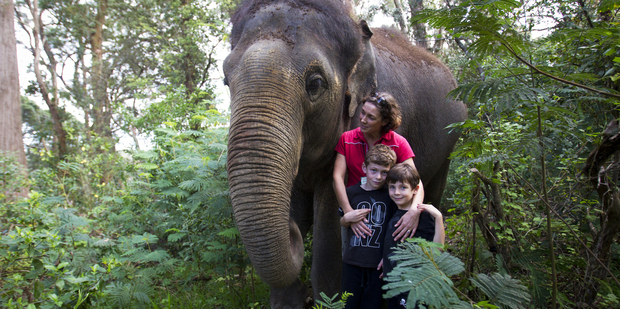 I volunteer at Auckland Zoo, so that's my happy place. The job I'm doing at the moment is in behavioural enrichment, preparing fun challenges for the animals.
A challenge has to be interesting enough that an animal wants to take it on. It could be a funny-shaped object with a smell of food in the middle of it.
We might put fruit in an icecream container. That's then wrapped in a pillowcase and tied up for the orangutans to get into. You have to think about what the animal will use to get into the food, and it's nothing like what we would do. We'll automatically think of undoing the knots but they will just put their eye teeth in it and rip it apart. You have to tie a package up unbelievably tightly for the orangutans, otherwise they just pull out the food straight away.
Some primates manipulate things in different ways so you have to do things differently. For example, siamangs won't put their hands in socks, so when we put something in a sock for them, we have to make sure it sits at the top so they can see it, otherwise they'll find it scary.
I've been volunteering for just over two years, normally one day a week. I'm self-employed and working from home, and I just needed to get out and do something different. My background is in animal behaviour and animal physiology.
Every week I'm presented with something I've not done before. You have to think on a different tack from your day-to-day work. It freshens me up.
My sons are 8 and nearly 7. They like going to the zoo, and they have their favourite animals.
I really like Burma, the elephant. You get a bit of an affinity with elephants. Standing next to her you feel so dwarfed, but despite her size she's really gentle. She's just quite amazing.
I don't work directly with the animals, but you get a connection with them because you're seeing them every week. You learn their names, and their histories, and you get to watch the babies growing up. I just really enjoy being at the zoo.
* Auckland Zoo at Western Springs is open daily 9.30am to 5pm in winter. To find out more about volunteering, click on the link above or ph (09) 353 2090. Volunteers must be aged 18 or older.
- as told to Bronwyn Sell