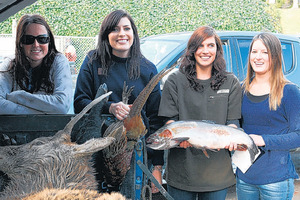 When it comes to hunting red stags, wild boar and cock pheasants, and catching trout, four young women showed up some of the best hunters in the country last weekend.
In fact, two of the huntresses had never fired a rifle before they knocked over the big animals to win the second annual Polaris Big Four Fishing and Hunting Competition, held at Te Puna, just out of Tauranga.
The marathon outdoor contest started on Wednesday morning when 77 teams of four set out to scour the hills and bush around the North Island in search of the biggest trophies, and when the clock stopped at 4pm on Saturday, many of the contestants had not managed to score in all four categories.
"We had entries from all over the country, and some even came from Australia," said organiser Ken Griffin. "It is a real challenge and it is not easy hunting the animals and catching the fish to order."
With more than $130,000 in prizes, it is the biggest such contest in the country, and the main prize was determined by the closest to the average weight in all four categories.
The only all-girl team raised some eyebrows when they arrived in their ute with a stag and boar on the back. The team captain, Stacey Rust (20), a veterinary nurse in Tauranga, is a keen hunter but said it was not easy finding three others who could take time off work and were willing to take on the challenge.
She eventually teamed up with a good friend, 21-year-old Paula Roberts, a duty manager at the Sudima Hotel in Rotorua; Rachael Blackie (23) from Hastings, an assistant manager in an accountant's office; and Bryar Bakalich (22), an accountancy student working in Opotiki.
The girls spent three days hunting "somewhere in the back of Gisborne" and did not get the stag until 8.30 on the last morning. "We saw heaps of hinds and sows, and when we spotted a boar they told me to aim at the biggest part," said Paula, who had never fired a rifle before. Rachael shot the stag, and it was also her first attempt with a rifle. Stacey bagged the cock pheasant, while Bryar was responsible for catching the lovely 3.2kg rainbow trout "on a yellow thing" while harling on Lake Rotoiti.
Two monster trout that were weighed in raised the average for trout - a 6.4kg rainbow and another of 6.88kg, caught by Tim Woodward while jigging on Rotoiti.
"We were absolutely stuffed by Saturday," said Paula. "We went hard for three days, and then had to drive to Tauranga. But we had a lot of fun."
Although they did have to rein in Bryar who took time off shopping. "I was looking for hunting gear," she said.
The young hunters scored a pack of prizes worth nearly $20,000, including the ultimate hunting vehicle, a Polaris Ranger ATV. What are they going to do with the prize? "Go hunting, of course," said Rachael. "We've got the bug!"
Other prizes included a hunting hut from Gear Steel Buildings, worth $15,000, and a Modcom chiller valued at $10,000; plus product from Stoney Creek clothing and UFO cookers.
The heaviest stag weighed 125.1kg and was shot by Brendan Jarden; the heaviest boar of 85.5kg was entered by Phillip Ward. Woodward's trout was the heaviest and also won best condition factor with a score of 62.59, and the best pig tusks were 21.12cm, entered by Jake Trubshaw. The top set of antlers had a Douglas score of 273.62 and was shot by Daryl Frost, and the heaviest pheasant at 1.68kg was shot by Kylie Arden.
The competition will feature on Rheem Outdoors with Geoff, which starts a new series next month on TV3.