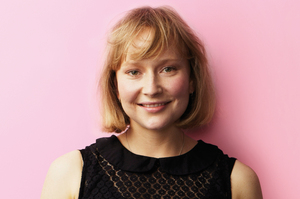 My boyfriend has been the most influential person in my life outside of my family. He picks me up and dusts me off and, for some misguided reason, thinks I am capable of greatness.
There are four things I believe in: epicureanism; enjoy the simple pleasures; don't be a dick; help other people.
A while ago my friend dropped a dumb-bell on her fingers. A really heavy one. Her fingers literally exploded out the sides. But I saw them today, and they are almost completely healed. It makes me appreciate how amazing the human body is at healing itself.
I don't understand our preoccupation with our sense of "New Zealand-ness". Sometimes I feel like there is this desperate need to define who we are as a nation, which means we negate things of a universal nature or we treat them as somehow less valid. In the theatre world, plays that don't have distinctly New Zealand themes or that aren't "Kiwi" in subject matter tend to be a bit written-off by reviewers and/or funding bodies. Why should these stories have lesser importance when they are still informed greatly by a New Zealander's treatment?
I'm in my difficult years, I think. The early to mid-20s has been a time of some stupendous mental trauma for me. I think because you have a moment after you finish your studies to reflect on all your spectacular life decisions to date, you go: "oh crap, actually I'd rather go work on a yacht for rich people because this BA I have is entirely useless." Or, "actually everything I thought I was when I ended high school doesn't interest me in the slightest now that I've finished studying it at uni for five years." And to top it off, "oh God, I'm also really broke."
I have never seen a therapist. I'm open to it though. But I've found that just talking about stuff really honestly with people is good. I think it's easy to forget that the planet is full of human beings with access to a spectrum of emotions and experiences. We forget we can talk to each other about the heavy shit that matters. I have talked to people I barely even know about stuff (usually quite accidentally) and been surprised at their astute and really kind observations.
I'll never order anything on a menu that has coriander in it. Nor raisins or licorice/aniseed. And no wheat. I get a musical bottom.
One of the happiest moments of my life was taking my Mum and Dad out for dinner at Eight at the Langham. I paid. It felt so good to do something nice for my parents. Mum and Dad are from Taranaki, real meat-and-two-vege folk. Dad was like a Martian tasting Earth food for the first time. He had never eaten sushi and declared pickled ginger a triumph.
I don't cope well with group social situations. It's too full-on. Just one or two people at once, please. And I can't remember names.
I first knew what love was during a road trip around Napier/Hastings one summer with my boyfriend, Jarrod. We had just started going out and we went camping. It could have been a disaster. We were driving around to vineyards and the like ... I had the map and was quite drunk from all the wine tasting.
I had the map upside down. But he didn't get angry. That's when I realised he was quite special.
Fern Sutherland stars in Tribes, at the Maidment Theatre, Auckland, until June 30.