Here are four cafes which not only provide treats for your tastebuds, but, are a feast for your eyes too.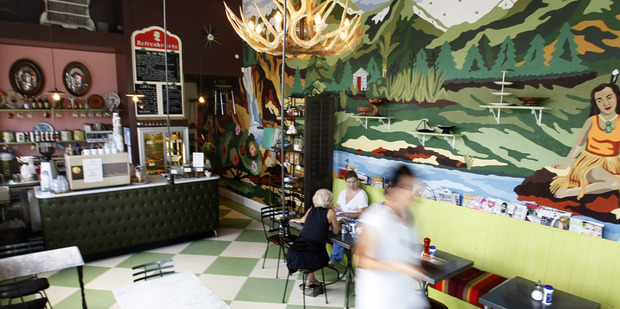 QUEENIE'S LUNCHROOM
24a Spring St, Freemans Bay
It's hard to decide what we love most about Queenies - hot chocolates in Temuka mugs and DIY toast from your table-top toaster or the bright, kitsch surroundings. One of the best menus around too.
COSSET
1087 New North Rd, Mt Albert
We love almost everything about this cute cafe, from the antique and retro furniture dotted throughout, to the knitted fruit and vegetables on display, to the crafts for sale on the walls and the pretty crockery. Great coffee and a small vegetarian menu.
HUBCAP CAFE
Mini Garage, 130 Ponsonby Rd, Ponsonby
The only place we know of which has a upside down Mini car stuck to the ceiling. Overlooking Ponsonby Rd one floor up, it's a nice place to watch the world go by. Hubcap deserves credit for its daring menu and great coffee.
HUMBUG
32 Rua Rd, Glen Eden
With its mismatched furniture, retro artwork, floor-to-ceiling windows and two separate dining areas (one child-friendly), this is a little gem. Great menu and fantastic service. Worth heading west for.