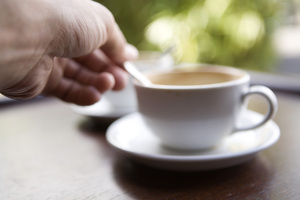 Tea-drinking has been linked to a higher risk of prostate cancer after a study that ran for 37 years.
The research by scientists at the University of Glasgow shows that men who are heavy tea-drinkers are 50 per cent more likely than others to develop prostate cancer.
More than 6000 men had their health surveyed over 37 years, including their tea, coffee and alcohol consumption and smoking habits.
Of the heavy tea-drinkers - a quarter of the group drank more than seven cups a day - 6.4 per cent of them developed prostate cancer later in life.
Study leader Dr Kashif Shafique, of the university's Institute of Health and Wellbeing, said previous research indicated no link between the cancer and black tea, or some preventative in green tea, but these findings questioned that.
"We don't know whether tea itself is a risk factor or if tea-drinkers are generally healthier and live to an older age when prostate cancer is more common anyway."
The men who drank more tea were healthier overall - they were less likely to be overweight and more likely to avoid alcohol and have healthy cholesterol levels.
"We did adjust for these differences in our analysis and still found that men who drank the most tea were at greater risk of prostate cancer," said Dr Shafique.
The national health promotion manager for the Cancer Society of New Zealand, Dr Jan Pearson, said it was possible that tea-drinkers simply lived long enough to develop the cancer, as men who are diagnosed are generally over 65.
She thinks the study is interesting but there should not be any concern for men in this country.
"It points to a correlation, not a cause. And they drink tea strong in Glasgow!"
Dr Pearson also said it was inconclusive whether green tea was beneficial - but that did not mean people should give up drinking tea.
"It has less caffeine than coffee and it's better than highly sugared drinks or alcohol."
Prostate cancer is the most common form of the disease for men in this country. About 2500 cases are diagnosed every year.