Mystics netball player, Grace Rasmussen, shares her happy place with us.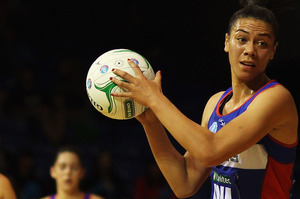 The 2010 Commonwealth Games in Delhi was a pretty happy place for me. I was the wildcard selection into the Silver Ferns that year and I wasn't expecting to make the team.
I found out I made it a few months earlier, when I was in the car with my sisters going to watch one of them play a club netball game and [former Silver Ferns coach] Ruth [Aitken] rang. She told me I'd made the team, and obviously I started screaming. I actually asked her if she was joking. When I got off the phone we had to pull the car over and I had a moment with my sisters.
I had only played a couple of international games before we travelled to Delhi. I played most of the games leading up to the play-offs, which was pretty exciting. I managed to get some court time against South Africa, so that was pretty special. I was playing goal attack at the time, and slotting my first shot was a nervous experience, but after that it was all go.
I didn't play in the semis or finals. But I was so emotionally drained just watching the final against Australia that it felt like I was on court.
Towards the end of the game Maria [Tutaia] started cramping up and Ruth told me to warm up on the side, which was a huge thing for me. I was really nervous, even though I knew I probably wasn't going to go on.
I was thankful that Maria was able to push through the pain barrier and keep going and get that winning shot for us. It was an absolute high. It was a great year to make the team - winning a gold medal at the Commonwealth Games. What more could you want?
I busted my ACL [anterior cruciate ligament] last year, which was not the best thing, but I've recovered from that and I'm back playing for the Mystics. I think just before I busted my knee I was actually playing the best netball I've ever played. So the year after that was not my happy place. But my confidence is definitely growing. It's obviously a bit frustrating, but it makes you a stronger player because you have to be a bit smarter about what you do.
My goal is definitely to be able to get back into the Silver Ferns and work towards the next Commonwealth Games in Glasgow in 2014 and the World Champs, and hopefully get a medal.
- as told to Bronwyn Sell
* The Northern Mystics play the Waikato/Bay of Plenty Magic at 7.20pm today at The Trusts Stadium Arena in Henderson. See anz-championship.com.