Address: Hotel DeBrett, cnr High St and Shortland St, Auckland Central
Ph: 09 916 9933
Website: cornerbar.net.nz
Open: Tuesday-Sunday from midday 'til late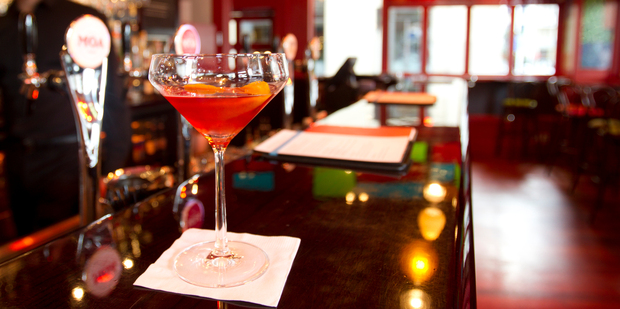 How could you not love a bar that serves home-made potato chips and Maggi onion dip?
To be honest, in many bars this would count as the highlight, and in many bars it would also have been a welcome relief from the bad beer, poor service and hellish toilets, but at Cornerbar, it seems as natural an occurrence as a decent cocktail.
First things first, though. Cornerbar is tucked away in a spot ideal for an evening exploring the Chancery/High St area and offers a comfortable, warm environment bolstered by lovely drinks.
The interior is nicely done, with an understated cool and great service, being attentive without becoming stalker-ish.
The food menu is great, too, with plenty of nibbly options from the aforementioned chips and dip to pizza and sandwiches.
But it's the drinks that raise Cornerbar above the rest. With a selection of craft beers on tap (Tuatara, Epic and Moa), more available by the bottle and a small but well-thought-out wine list, there is plenty of quality grog on offer.
The spirit selection is also excellent, with reassuring inclusions such as Zubrowka vodka and Noilly Prat vermouth and the resultant cocktails are very good indeed, especially the lemon meringue martini.
All in all, Cornerbar has managed to avoid being anything like a hotel bar and it is flourishing as a result. An excellent place to start or finish a big night out.
Scores
Service: 4/5
Drink: 5/5
Food: 4/5
Atmosphere: 4/5
Overall: 4.5/5