Sandra Roberts tells Elisabeth Easther what it's like living in Waitoki, a rural spot north of Auckland.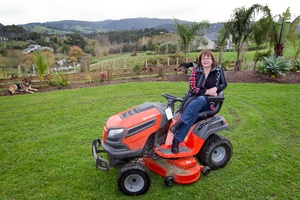 Waitoki is one of those places you drive through and don't realise it, the only sign is that it changes from a 100km to a 50km zone.
It originated as a farming community, and there are still some good holdings here, mainly dairy farming. And then there's the growing population of lifestylers, many of whom have yet to "get" the lifestyle and for now it's more like a life sentence. It is hard slog some days. We moved out here from the city about eight years ago and we're finally rounding the corner on our block - we've just got a ride-on lawn mower and some other big boys' toys. In fact, you can't get me off the ride-on these days. Farmers probably wonder why we mow our 2ha block but the lawn looks so pretty. We have some large dairy farms right at our boundary, so it goes from pretty grass to cow farms. And yet I can be at the Civic in just 30 minutes, if I leave home outside peak traffic.
Waitoki is north of Auckland, people usually discover us when they get diverted from Wellsford on the Kaipara Coast Highway. That's us on Highway 16. There are no shops but we've got a lovely cafe called DD's. She does homemade food and delicious coffee and, on Friday nights, they have amazing burgers and fish 'n' chips.
You have to ring in first and wait for half an hour, but it's worth it.
For our entertainment, one of our close neighbours has a clubroom and on Sundays he extends an open invitation to all the neighbours. There's a pool table, and table tennis, and it's a BYO for a catch-up and to tell tall tales from the week. Recently we were all outraged at the price of lamb at the supermarket so we invested in some fencing and bought a couple of sheep each. It's a nice little community project - although the economy of scale isn't great, our two sheep have cost us a couple of grand each. There have been scheduled musters and some unscheduled musters, but it has been fun.
Our place is 10 minutes from Silverdale, and there is enormous development going on out there. The great thing about living here is the kids can make as much noise as they like. We have two, Samantha (13) and Claudia (12). They're soccer-mad, so we're always out in the paddock, where we have a scaled-down version of a football pitch.
The kids go to the local school in Wainui, which is great and it continues the tradition of Agricultural Day. The kids can bring a cow, a goat or a sheep, or some chickens to show. They have farming demonstrations, and there's the classic "Dress up your Goat" competition, with prizes for the prettiest goat.
The kids out here get into ponies and horses and there's a large pony club. Lots of kids get into motocross too, some of the farmers open their farms up for the day so people can ride through them.
There is also a large scale model club at Wainui, people come out and fly their model airplanes at the Pony Club.
Another thing to do is to pop into the Kaipara Coast Sculpture Gardens. These are open to the public.
There are two community halls, one each in Wainui and Waitoki and they're in great use. You can do karate a couple of times a week, and yoga and there's a kids' music company. And then there's the highlight of my week; the ladies get together every Wednesday night for a local netball tournament. It doesn't matter how good or bad you are, it's a chance to socialise, do some exercise and have a bit of a laugh. Waitoki's more a of hamlet than a suburb and it's just grand.
Sandra's picks
* DD's Country Cafe, 1097 Kahikatea Flat Rd, Waitoki. Ph (09) 420 3009. Delicious food and great coffee.
* Wainui Pony Club, 165 Ireland Rd, Waitoki. wainuipc.co.nz. Their motto? "Because having fun matters."
* Kaipara Coast Sculpture Gardens, 1481 Kaipara Coast Highway. Ph (09) 420 5655. Tranquil, peaceful and inspiring.
* When Sandra Roberts isn't mowing lawns, she's publicising some of the biggest shows to come to New Zealand. She is currently working on Nutcracker On Ice (The Civic, July 3-8) and Louis Pearl, The Amazing Bubble Man (The Civic, July 11-15).