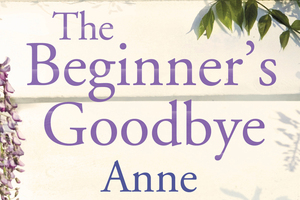 The Beginner's Goodbye by Anne Tyler
Chatto & Windus $34.95
Small as it is, and simple on a superficial level, this is one of the best books I've read about death and loss. As always, Anne Tyler doesn't explain the powers of emotion or tip you into despair. Instead, she peels back the layers to show her readers how grief works. In this case, using her tremendous talent for detail and understanding, she walks us through the life of Aaron Woolcot in the weeks, months and years after his wife is killed by a falling tree.
It's a deliberately small life. Aaron, who is around 34 when the book opens, works in the family business. They publish "how to" guides for every occasion, no matter how small. Think The Beginner's Colicky Baby or The Beginner's Monthly Budget and wonder at America's vast reading public.
After a childhood virus or similar that stunted and partly paralysed one half of his body, Aaron walks with a stick, drives a modified car and has developed an aversion (obviously dating back to his over-protective mother) to women who fuss over him.
He has one sister, Nandina, who he likes (reservedly) and who understands him enough to stand back and let him look after himself. He and his wife Dorothy, a frumpy radiologist who's eight years older, had no children and almost no friends, though Aaron had a few before his marriage. Dorothy certainly doesn't fuss over him. Indeed, it transpires, she tends to treat him like a rather annoying dog. There's certainly not much nurturing from either of them. But to Aaron, their singular routine and unassuming relationship that relies on just letting each other be, is perfect.
Now that she's dead he dreads people showing sympathy or looking after him.
The most interesting thing about Aaron is the depth of his grief when Dorothy dies (given their odd, seemingly passionless relationship) and that his wife comes back from the dead. Dorothy materialises in ordinary places, says little, then, disappointingly (for him), vanishes. And Aaron is left to go it alone again.
Over the months Aaron stops hiding from his worried neighbours. He leaves his half-demolished house almost by mistake and moves in with his sister. He finds he can talk to some real people, mainly Nandina and the builder. Meanwhile, he and the ghost of Dorothy start to argue and he remembers the little things that used to annoy him - and the fact that their marriage had cracks as well as good times.
And finally she stops coming to visit.
Tyler was born in Minneapolis and she could certainly be writing about that ultra-civilised society as she describes the saintly neighbours and friends who keep arriving with casseroles and sympathy for the ungrateful Aaron, who can barely bring himself to speak to them. In New Zealand he probably would have been left to get on with it.
She writes with insight and authority in Aaron's voice. You have his conversations with outsiders, those inside his head and, most interestingly, those with Dorothy - who rarely answers. His grieving process, unlike most books about death and dying, is tinged with sadness but is also often funny, certainly enjoyable and on the whole, uplifting. Tyler is an observational writer, with an ear for the small details that bring us the most poignant messages. She unwraps emotions, lays them bare - and, in doing so, allows us to see how people sleepwalk through life's tragedies until they can cope again.
And although her ending could be seen as over-neat and tidy, it has the ring of truth about it. This story is all about deflecting, then absorbing grief - and learning to change. Situations like this happen all the time. The truth is, Aaron was too immature, too darned truculent and adolescent when he married.
He'll do a lot better next time.
Carroll du Chateau is an Auckland reviewer.