Address: 59 France Street, Newton
Ph: (09) 373 3240
Open: Sunday noon-late, Monday 1pm-late, Tues-Sat 11am-late.
Website: kingsarms.co.nz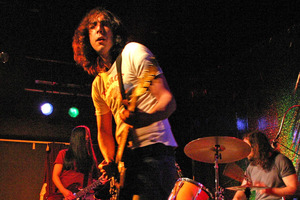 It's hard not to get a chill as you enter the Kings Arms.
Think of all those bands that have played there down the years and you get a real sense of history. Then you look around and see that it's clearly a living history if you enter through the sports bar - it's still 1976 and fiercely proud of it.
Jugs, leaners, horse racing and ancient carpet combine to effortlessly reproduce the ambience of the past and all it really needs is a few blasts of acrid tobacco smoke. Mind you, if the wind is blowing in the right direction you get that, too.
That may sound a bit harsh, but I'm not complaining. The KA really is like a living museum, but with the added benefit of being quite reasonable when it comes to prices. The menu will never win any culinary awards, but it is solid fare at a better than decent price.
Similarly, the drinks list may veer towards the traditional rather than the super-premium, but that's not necessarily a bad thing.
Let's be honest, though, no one goes to the KA for the ambience, the food or the drinks. It's all about the music.
Live bands play most nights of the week and if you want to see and hear what's happening on the Auckland band scene, this is your first port of call. The big acts who come through Auckland often end up playing here, too, so the place is something of a rock icon.
And the garden bar is as good a spot to while away a Sunday afternoon as you'll find, especially with a little live music in the background. Rock on.
Scores
Service: 3/5
Drink: 4/5
Food: 4/5
Atmosphere: 5/5
Overall: 4/5