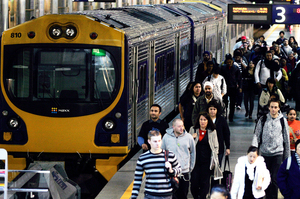 Here are our four favourite Auckland train stations, for when you're on a whistle-stop tour.
1. Britomart Station. What's not to like about this gorgeous station? It makes people proud to be Aucklanders, or delighted to be visiting the City of Rails. Completed in July 2003, it cost $211,000,000, used 40,000 cubic metres of concrete and took two years to build. And it's the best portal to the Santa Parade by far.
2. Sylvia Park Station. This is a great way to go shopping. Take the train to this shopping mecca and turn a spot of retail therapy into an adventure. Interestingly, an earlier station was opened at the site in 1930 and closed during World War II due to the American government buying the land next to the railway station and using it for army sheds. Who knew?
3. Pukekohe Station. Why not go a little further afield and spend a day in the country. This station was opened in 1875, as The Pukekohe Railway Station and Post and Telegraph Office. Back in the day it contained a ladies' waiting room, as train stations were notoriously dodgy - not like today's clean, safe spaces.
Go on a Saturday morning and enjoy the famous Franklin Farmers' Market.
4. Swanson Station. This sweet weatherboard railway station building was relocated from its original Avondale site. So why not toot your way out West and wet your whistle at the excellent Swanson Station Cafe? Time your visit to coincide with the Swanson Station Market, on the first Sunday of each month. Or you can hang out at Swanson Station Park, which has a great playground with a flying fox. We like it.