Get into the spirit when it comes to pairing foods with drink, urges Don Kavanagh.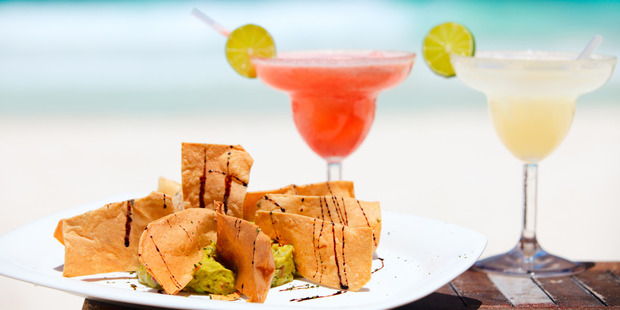 I wrote recently about matching wine with food and the pleasure it can bring to a meal, but what about spirits and food?
Most people don't drink spirits with food, as there seems to be a strange perception that the strong flavours will overpower the food, but that ain't necessarily so, as the song would have it. I've had exquisite dinners matched to fine Scotch - tempura quail with the Dalmore McKenzie was one of the best pairings I've ever come across - and I'm going to go into the use of whisky with food more comprehensively in a future column.
Perhaps the oddest combination of food and drink was last week, when I went to Queenstown on a jaunt with the crew from Jose Cuervo tequila. The trip was a reward for a group of bartenders who had sold plenty of the spirit and a good time was had by all.
From whacking golfballs off a rocky outcrop atop the Remarkables to a Masterchef-styled mystery ingredients cocktail challenge, it was tremendous fun and if you haven't tried a shot of Cuervo Tradicional with lemon-chilli salt and a squeeze of lime served in a hollowed capsicum, then you've merely been existing, rather than living.
But the centrepiece of the trip was a fantastic sit-down affair at Arrowtown's excellent Blue Door. We faced 16 courses of fine food matched to tequila cocktails. Course after course emerged and were consumed greedily. I don't tell you this to brag, but to point out that the meal, which covered every base from caviar to chocolate, was made even more pleasant by the presence of the cocktails. They worked, whether spicy, savoury, sweet or dry, and they complemented the food wonderfully.
Of course, if you do experiment with spirits over several courses, either go easy with the size of your pours, or to come up with a cocktail that will cover a couple of courses, because you don't want people falling face-first into the trifle.
But it is fun to experiment with spirits and food, whether it's using bourbon as a coating for ribs or matching dark chocolate dishes with Islay malt and half of the fun is in the experimentation, so try something different next weekend.
If nothing else, it might clear out those half-bottles of ancient spirits and liqueurs from your drinks cabinet.