One hundred of our favourite recipes put together for you to enjoy by Viva's food editor Amanda Laird.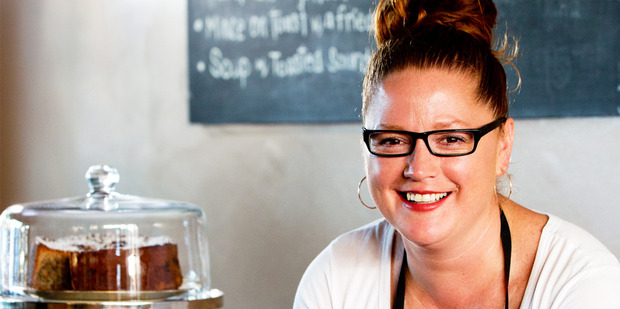 Minutes into arriving at Amanda Laird's cafe, a disgruntled regular approaches the table.
"I came in especially for one of your pies or sausage rolls," he says, grinning, "and they've all sold out."
It's nearly 2pm on a Thursday at Ruby Red in Mangere Bridge, and the cafe is still bustling with customers, many of them spilling out on to the sun-dappled footpath. If it wasn't for her apron, Laird might look like one too as she sips a coffee her barista husband Felix has made. But the couple are clearly familiar faces here. We're sitting at the cafe's most prominent table, next to a wall of vintage trinkets Felix picked up from antique stores. Many of their regulars wave hello or stop for a chat.
The cafe, in the heart of Mangere Bridge Village, has been open for 18 months and has been done a roaring trade. The multicultural suburb on the edge of the Manukau Harbour is a thriving community attracting a growing number of young families, much like their own.
The couple have three children, Benjamin , 11, William, five, and daughter Sia'lei, two, her name inspired by her father's Samoan heritage.
Juggling a young business with a young family means early morning starts and being organised but Laird's already busy lifestyle didn't put her off tackling another project.
The Viva cookbook, Good Times: Favourite Recipes to share from Viva features 100 of our magazine's food editor's favourite dishes, photographed by Viva photographer Babiche Martens.
One of them features in the cabinet at Ruby Red, and is famous in Laird's family.
"Would you like a piece?" she says, grabbing a decadent slice of caramel meringue. Her mum is responsible for all the baking, which sells out almost daily. That includes the pies, sausage rolls, chocolate cake, biscuits, lamingtons and delicious lemon melting moments - but this particular recipe belonged to her grandmother, who used to make it for Laird when she was a kid. Though not exactly suitable for weight-watchers, it's heaven for caramel fiends, with its crumbly shortbread base, gooey filling and fluffy egg white topping.
It wasn't easy selecting her top 100 published dishes from the last six years but Laird tried to choose the most interesting, including a goat curry and a popular recipe for fried bread.
Those who've had the best intentions to hang on to her recipes each week can now have a copy of her favourites in one colourful capsule.
"People kept telling me they've got bits of paper ripped out and stuck in a folder but they can't find them. It was an opportunity for me to put a nice combination of different cultures and flavours into one book."
Laird says her style is simply home cooking but as well as the classic brunch and lunch fare on the cafe blackboard, she adds a few Pasifika twists. The smoked fish cakes, for instance, come with taro chips rather than potato, and depending on the season, you might get exotic tropical fruit with your muesli or french toast.
The other day Laird was browsing through a fruit and vege shop in Onehunga, and was surprised to find mangosteen, a delicious tropical fruit that tastes like a combination of passion fruit and lychee.
"I split them in half and gave them to my favourite customers. They said, 'What are they? Ugh'. But as soon as they tasted them, they were sold. There are so many ingredients we should involve more. That's one thing I would like to encourage - for people not to be scared of trying new things because there are so many things we could be eating."
Laird's love for cooking started young. Her grandmother was diabetic so she would pay a lot of attention to ingredients.
"It was just us in the kitchen, and we'd talk through recipes. If I wasn't feeling very well she'd make fried cheese sandwiches in the pan and cut up a little cold piece of apple and give it to me in bed. My mother was also a fantastic cook. Her father was a baker. I didn't get to know him but she grew up baking. Her sisters worked in a bakery. That's where a lot of this comes from."
While studying English and political studies at university Laird waitressed at cafes, progressing to jobs at fine-dining establishments Harbourside and the former Cin Cins.
"I just hated being on the floor. I wanted to be in the kitchen so I just kept trying to get in there."
She landed her first chefing role at the old Westmere restaurant Bayou, and has since worked at Salsa on Richmond Rd, The Black Crow opposite Albert Park and the cafe at the New Art Gallery in town, where she learned to use Maori ingredients. It was also where she met Felix.
The pair worked together for years, and dreamed of opening their own cafe.
When kids came along, Laird found magazine work fitted perfectly with her schedule. But not long after Sia'lei was born, they made the nerve-racking decision to launch Ruby Red.
"Felix had been making coffee for 25 years, I'd been cooking for 20 years. We thought, if we don't do our own thing now we never will."
Like most working parents, life is a constant juggling act but they've found ways to make it easier. They've just moved from Papatoetoe to Mangere Bridge, so they're now within walking distance of work. The cafe doors close at 3pm, so the couple can get back to family life. And when things get too busy, the kids' grandparents and friends step in.
The kids enjoy the cafe lifestyle. Benjamin is an enthusiastic cook, especially when it comes to making French toast and pikelets (he comes into the cafe every Saturday to see how it's done). Sia'lei is a huge fan of butter.
"That's what she says all the time. She loves dairy products. I make celery sticks with cream cheese because William likes them. I gave a plate to Sia'lei and she dug all the cream cheese out."
One day they hope to expand to offer a dinner service if they can find the extra space. But for now, the tiny kitchen remains a remnant from the cafe's days as a burger bar. That means there's not a lot of freezing space, so all the produce has to be super-fresh. The village provides almost everything they need. The vege shop is right next door and the fish shop down the end of the street by the wharf.
"I've always wanted it to be about the food I grew up with and trying to incorporate Pacific ingredients because that's where we are."
Introducing new flavours takes time - the taro chips, for instance, weren't an instant hit - but now the fish cakes are one of the most popular dishes on the menu.
Cooking for a live audience, so to speak, also means Laird gets instant feedback on new recipes, some of which end up in Viva.
"Viva's great because I can combine it with family life. The cafe is wonderful as I am able to trial recipes, put tasting plates on the counter. We have so many regular customers and they often suggest things.
"It's a nice little place where we can try what we like, and if it doesn't work we rub it off the board.
"There are so many ingredients to learn about, one can never be bored when it comes to cooking, that's for sure."
VIP Viva
We are delighted to have five copies of Good Times: Favourite recipes to share from Viva (Penguin: $44.95) to give away. To go in the draw to win, simply go to nzherald.co.nz/vivagiveaways and enter the keywords Good Times on the VIP Viva page along with details. Entries close at 11.59pm on Sunday, June 3. For terms and conditions see the website. The cookbook is also available in all good book stores.
* Check out Viva's Facebook page, the place to find out what's hot in fashion, beauty, food, wine and design.