Osteopathy helps Gill South get over a few aches and pains from her new gym regime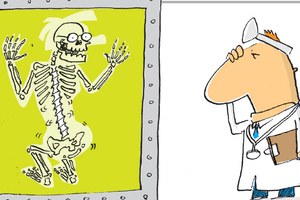 I had a splitting headache last week from Monday afternoon till Thursday morning. I woke with it, I went to bed with it. I just assumed I was heading for the flu but the drugs didn't seem to be working and then it occurred to me my rather sudden return to exercise might be the cause. Over a week or so I had done more exercise than I would normally do in a month and it included some new stuff like playing on the weight machines at the gym. Quite a shock to the system.
I decide to go and see my family osteopath, Jeremy King from BodyWorx Healthcare. My back is like a twisted corkscrew, he tells me. When I am interviewing people on the phone, he imagines I curve myself round my notepad for a good half an hour-40 minutes. True.
My twisted corkscrew problem is habitual rather than structural, he says. And wherever the spine twists, it changes direction and stores tension. With a few strategic adjustments (or click clack of bones) - Jeremy calls them mobilisations - he works on these points to release tension.
The osteo says I have a couple of neck problems on the left side which have been created by some kind of trauma in the past. I did go through a nasty stage of fainting in my late 20s/early 30s when living overseas. I'd faint coming off the Tube in London, I fainted at a concert, at a restaurant. I remember having a spell in a pub in Johannesburg. When you faint there is no muscle protection, so it can create a deep problem, Jeremy says.
Meanwhile my sudden flurry of exercise at the gym has rather knocked my muscles for six. The exercise has highlighted my joint problems. And though I have pretty flexible joints, my muscle flexibility is average, says Jeremy. I think he's being kind there. With my adventures at the gym, the muscles have been taken well out of their comfort zone - and they are fighting the new regime. They were quite comfortable with my more sedentary lifestyle thanks very much.
Jeremy says in the early days at the gym, I should space out my visits to every two to three days. And he says Nurofen is fine for me to take after my treatment - it would complement his treatment in my case.
As it is I only need to take one more lot that day, because the headache disappears.
I consult some orthopaedic surgeons from the NZ Orthopaedic Association and they agree I have to ease myself back into exercise rather than being like a bull at the gate. Lifting heavy weights quickly for the first time leads to injury and it's important to tell your gym trainer what your recent exercise level has been, they say. Don't be embarrassed to tell them you have being doing very little. And if I have a young, fresh faced trainer for my first gym session, remind them that I am no longer their age, thus lighter weights lifted slowly is advantageous, they say. To be fair, my trainer was made fully aware of my rather light exercise regime and instructed me to do things slowly.
A weights programme is beneficial as we age, say the docs. From about 35 on we lose our muscle mass and a well-constructed gym programme can delay this progress, leading to a healthier, injury free life.
Next week:
I learn about positive psychology and some useful interventions to keep myself feeling happy, in a new TV series on the Living Channel. Though I have pretty flexible joints, my muscle flexibility is average, says Jeremy. I think he's being kind there.